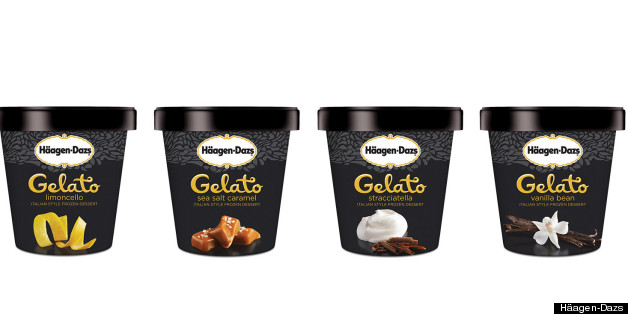 Häagen-Dazs unveiled a new line of gelatos earlier this month, and we were excited to get our hands on the new flavors: Stracciatella, Sea Salt Caramel, Dark Chocolate Chip, Limoncello, Black Cherry Amaretto, Vanilla Bean and Cappuccino.
An ad campaign promoting the line launched not long after. It includes a 30-second spot featuring a fiery couple arguing in Italian, stopping just long enough to enjoy a spoonful of Häagen-Dazs gelato. "Our new Italian masterpiece," reads the tagline.
The ad appears to play up the stereotype of the hot-blooded, Italian lovers. Though not offensive in Mountain Dew-like proportions, to us it seems an odd move by Häagen-Dazs.
According to MarketingDaily, Häagen-Dazs brand manager Cady Behles said the company's goal was to "create a campaign that captures 'La Dolce Vita' and immerses our fans in the Italian culture through sight, sound and, of course, taste."
So Italian culture equals... arguing? Plus, there are gelaterias on every corner in Italy. What self-respecting Italian is going to bring home Häagen-Dazs gelato? "That seems like it's definitely going to start a fight, not end it," quipped one of our editors.
HuffPost editors weren't wowed by the varieties we tried (which didn't include Limoncello), but the Cappuccino did have a nice coffee flavor and the Stracciatella was perfectly pleasant. None tasted particularly like gelato, which in its best forms is rich and creamy. Had we not read the packages' label, it'd be easy to believe we were sampling ice creams.
For the record, gelato has less fat and is denser than ice cream. There are other differences, too -- check out this Serious Eats piece that breaks them down for a better understanding.
BEFORE YOU GO
PHOTO GALLERY
The Best Ice Cream Flavors