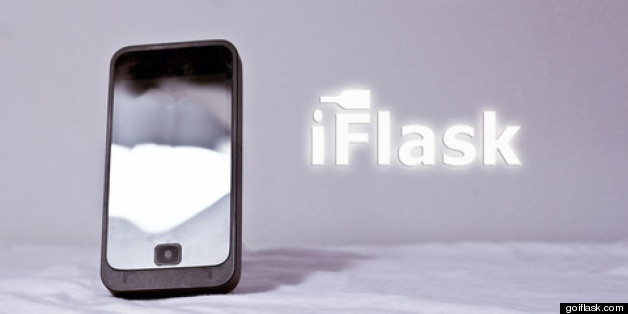 Tailgaters, start your engines: designers Dan Novaes and Ethan Hou recently began taking pre-orders for the first ever flask shaped like an iPhone.
The $34.95 iFlask, currently on sale for $24.95, is designed to look like an iPhone; owners can discreetly move a slider on the flask's body to sip from the "headphone jack." The ostensible purpose of the iFlask is to disguise a user's drinking; Novaes and Hou were inspired to build it after friends received one too many open container tickets at tailgates and were frustrated by the price of drinks at events.
The iFlask website advertises it for use in class, at music venues, during baby showers and more -- in other words, places where flask use is better kept disguised.
But it has not escaped our attention that the iFlask may be used for another purpose: allowing people to pretend they own an actual iPhone. The Apple phones have become enough of a status symbol to birth a multi-million dollar market in iPhone fakes -- and that's just in the U.S. Internationally, iPhones have more cachet: Asian teenagers have allegedly sold body parts for iPhones and a Chinese subscription service will even add fake "sent from my iPhone" messages to non-iPhone emails.
Whether or not the imitation iPhone will fool onlookers, if you're looking for a place to hide up to 5 ounces of liquor, you're in luck -- or you will be, once the iFlasks ship. According to the iFlask website, that will likely happen later this month.
BEFORE YOU GO
PHOTO GALLERY
Filters: Instagram Alternatives For iPhone