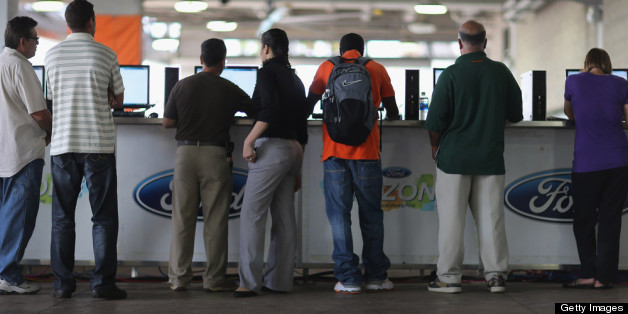 If it wasn't clear before, it's clear now: Employers just aren't hiring.
The Bureau of Labor Statistics on Tuesday released its latest Job Openings And Labor Turnover Summary (JOLTS), a less-famous read on the job market than Friday's jobs report. The data are a month older than the jobs report, for one thing, and don't include big, important numbers like the unemployment rate. But they still offer a helpful snapshot of the job market, tracking the millions of people who quit, get hired or get fired every month. Unfortunately, that snapshot is not too pretty.
On the upside, there were 3.8 million job openings in the U.S. in March, according to the data. On the downside, that is exactly the same number of job openings available a year ago, and below the 4.7 million openings in March 2007. And there are nearly 12 million unemployed people looking to fill those jobs.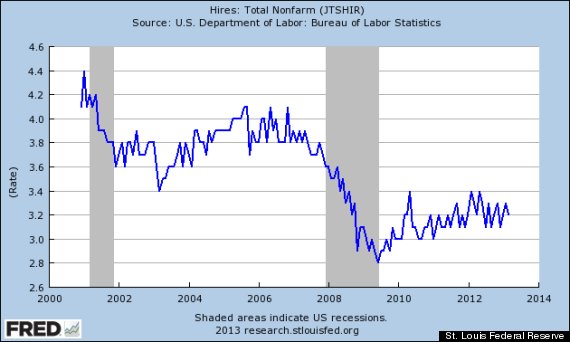 In another ominous sign, people quit their jobs at a slower rate in March than in February. And about 4.3 million people were hired in March, down from 4.45 million in February and 4.4 million in March 2012. Back in March 2007, 5.35 million people got hired. In other words, hiring is going nowhere fast.
New hires made up just 3.2 percent of the total number of employed people in March, down from 3.3 percent a month earlier and matching the same percentage hired in March 2011. And 2010. In the chart above, you can clearly see the stagnation in hiring that has persisted since the Great Recession ended (recessions are marked by gray bands).
I recently noted that the level of new weekly claims for unemployment benefits has fallen nearly back to pre-recession levels, but unemployment is nowhere close to getting back to normal. The current level of claims is typically associated with a level of unemployment about 4 million workers lower than it currently is, or an unemployment rate of about 5 percent, instead of 7.5 percent.
That suggests that employers aren't firing people any more. But, they're not hiring people, either, according to Tuesday's JOLTS data.
"There are no positive trends here for the job picture," independent economist Robert Brusca wrote in a note.
What accounts for the reluctance to hire? Simply, employers still see demand as too weak to justify ramping up hiring. This actually isn't all that surprising in the aftermath of a financial crisis and recession created by a housing bubble. Consumers have been too busy picking through the wreckage of their finances to spend a lot of money. And the government sector is not helping by slashing its own payrolls in a self-destructive frenzy of austerity, possibly robbing the economy of 2.2 million workers, according to a recent Brookings Institution study.
BEFORE YOU GO
PHOTO GALLERY
9 Unexpected Economic Indicators