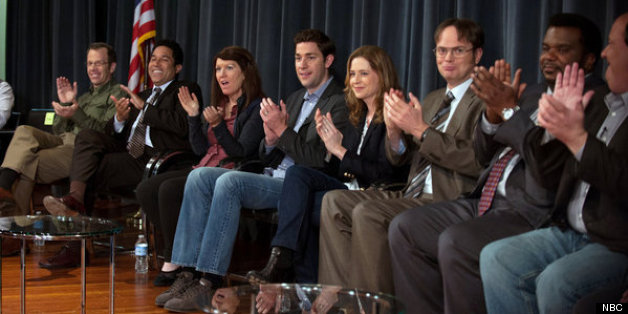 "The Office" finale has been extended!
The show's creator and showrunner Greg Daniels got his wish: NBC has added 15 minutes to what was going to be an hour-long final episode of the long-running series, which signs off on Thursday, May 16.
"We're trying to get more time and the network's being creative about scraping more time together for us without having us start the finale in a weird time that will cause half the audience to miss the first 10 minutes or something," Daniels told reporters during a conference call last week. "We're still hopeful to get slightly more than an hour."
Back in March, Daniels told TVLine that he was "going to beg NBC to super-size or extend" "The Office" series finale and hours later, fansite OfficeTally started a petition on Change.org.
Yes, dreams do come true!
The extended "Office" finale will now air from 9- 10:15 p.m. ET and though details are scarce, we know that the episode is set months after the documentary airs and the workers of Dunder Mifflin, past and present, gather for a wedding and a final round of interviews. "Mysteries are solved, hatchets are buried, pranks are prunked," NBC's official description notes. The "Office" finale will see appearances from Mindy Kaling, BJ Novak, Rachael Harris, Dakota Johnson, Joan Cusack, Ed Begley Jr., Malcolm Barrett, Matt Jones, Andy Buckley, Mike Schur, Bobby Ray Shafer and (rumor has it) Steve Carell.
"Hannibal" will follow the extended "Office" finale, now airing from 10:15-11 p.m. ET with limited interruption.
The extended "Office" finale airs Thursday, May 16 at 9 p.m. ET on NBC.
PHOTO GALLERY
The Office Season 9 Photos
BEFORE YOU GO