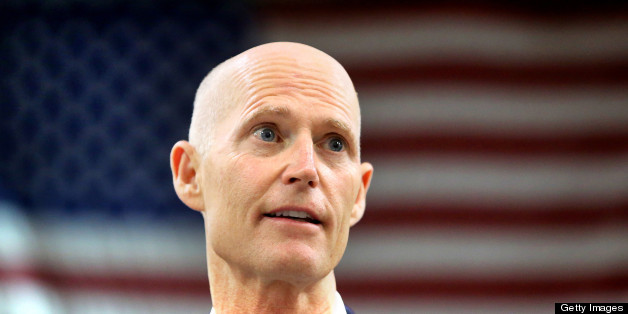 They don't call Florida "The Gunshine State" for nothing.
Not only did a lawmaker make gun-loading noises on the House floor to celebrate when Congress failed to pass universal background checks, but the state legislature passed only one of 12 gun control bills up before the 2013 legislative session.
Now more than 4,000 Floridians have sent emails calling for Gov. Rick Scott to veto the one bill that did pass, according to the Tampa bay Times.
Both the House and Senate unanimously passed HB 1355, which extends restrictions on firearm sales to include anyone who has voluntarily committed him or herself for treatment for mental illness.
Current Florida law only prohibits those involuntary committed, a segment that only represents one percent of mentally ill patients, according to the Palm Beach Post.
The bill was even backed by the National Rifle Association, who claim it closes a major loophole.
Yet despite the NRA's support and Tallahassee's unanimous vote, gun enthusiasts are asking Scott to veto the bill.
The National Liberty Foundation urges voters to write Scott:
Not only will this bill assure more law-abiding Floridians lose their right to keep and bear arms WITHOUT DUE PROCESS, even mental health experts are warning of its dangers.

"It is singling out people who have mental illness and are seeking out treatment voluntarily," exclaimed the CEO of the Mental Health Association of Palm Beach County, "My fear is that people who need help aren't going to seek it out, cause nobody wants to be on a database."
The news comes after a particularly brutal weekend of gun violence in South Florida.
A teen accidently shot his 6-year-old sister in the chest above her heart, a man was shot dead at a baby shower, a passenger who brandished a gun on a city bus was killed by Miami police, and a man was fatally shot while driving on I-95 in broad daylight.
Click below for 11 other gun control bills that failed in the 2013 Florida Legislature:
PHOTO GALLERY
Gun Control Bills That Failed In Florida
BEFORE YOU GO