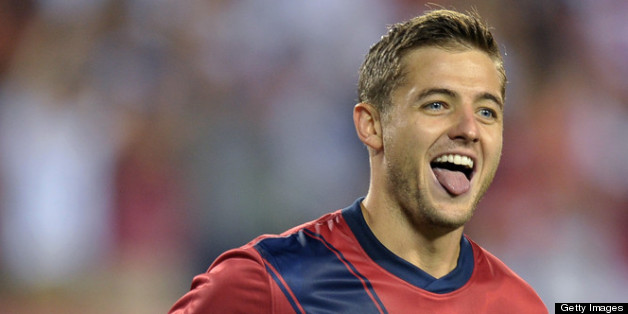 By Avi Creditor, Goal.com
Robbie Rogers winding up on the LA Galaxy in the foreseeable future certainly seems like a foregone conclusion.
That was not always the case. Not after it seemed as if Rogers would be spending a lengthy time away -- if not a permanent escape -- from soccer following his public disclosure of his sexual orientation, and not with his MLS rights being controlled by the Chicago Fire.
Rogers told ESPN Radio in Dallas, and then reiterated on his personal Twitter account Monday, that he wants to remain close to his family at this critical juncture in his life, though, and that Chicago does not fit into that equation if coming out of a brief retirement is to happen.
That means him remaining in Southern California, and that leaves the Fire with essentially two options: Hold Rogers' rights hostage or ship them to the Galaxy (Let's be honest: the unpredictability surrounding Chivas USA makes the other locker room at the Home Depot Center far from an ideal landing spot at the present time).
The former seems incredibly impractical, not with the amount of negative backlash the Fire and MLS would receive for not adhering to Rogers' wishes. To those in many circles -- and the likes of Herculez Gomez, whose MLS rights are still controlled by Sporting Kansas City, would certainly agree -- it is asinine that the Fire, or any MLS team for that matter, can maintain the rights of a player who left for another league.
Even so, those are the idiosyncratic MLS rules, and when Rogers' rights were innocuously shipped to the Fire along with Dilly Duka in the trade that saw Dominic Oduro head to Columbus, Rogers' MLS fate, should he ever elect to return to the league, was sealed. The thing is, Rogers holds the trump card in this case. If he doesn't get the playing situation with which he is comfortable, he will stay retired and carry on without a qualm.
In most cases, a player dictating which club he goes to would be chastised and come across as selfish. Rogers, though, is not most cases. Ever since he announced he was gay, he has taken on a grander persona in the American soccer scene and sports landscape as a whole. After NBA player Jason Collins' announcement of his sexual orientation followed, the continued overwhelming public support of Collins' and Rogers' courage has paved the way for an accelerated re-entry to the sport on his terms, should the 25-year-old U.S. winger choose to pursue that avenue.
For many reasons, both sporting and of the off-the-field variety, MLS will want him back in the league in a viable situation where he can thrive. That does not mean MLS will show preferential treatment in facilitating a deal to a specific team, but it also knows that it can't afford to let a standstill between a defiant team front office and a willing trade partner get in the way of a much bigger-picture issue.
"We'd love to see Robbie back in the league, regardless of the announcement that he made when he was over in England," MLS commissioner Don Garber told reporters at an appearance in Columbus last week. "He's a great player. When young, aspiring national team players leave, I believe it's something that's positive for the sport overall, but I want those players in Major League Soccer."
Rogers training with the Galaxy about a week ago raised eyebrows concerning the potential for tampering, but Garber dismissed the notion that LA was acting unprofessionally in any manner, even if Landon Donovan later publicly declared his personal preference to have Rogers traded to his club.
"I think Robbie's got to make that decision [of unretiring] for himself," Garber said. "His family is in Los Angeles. ... It was appropriate while he was in town to get in shape and start playing and figure out what his future will be. I hope that future is having him play in Major League Soccer."
There are obviously practical and contractual matters to take into account before that future becomes the present. How big of a contract would Rogers command? Do the Galaxy have enough cap flexibility to add him to their payroll without sacrificing the space necessary to sign a third Designated Player this summer?
Based on current salary figures released by the MLS Players' Union -- which do not account for salary that is bought down with allocation money -- the Galaxy don't figure to have a ton of flexibility to sign Rogers and a big-name Europe-based star like rumored targets Frank Lampard or Kaka. Rogers was on a $140,000 salary during his last season in MLS in 2011, and while he does not necessarily need to sign for at least that amount should he return, it also does not make practical sense for him to settle for anything less.
On the other side of the equation, at what point do the Fire set Rogers free and accept what is eventually put on the table without feeling slighted? This is, after all, a significant business decision that could impact the franchise and its fortunes in a big way, and the Fire won't want to go out of their way to inconvenience themselves.
On an individual level regarding Rogers, what kind of playing shape is he in? How long would he require to get back to full fitness? Those factors could alter his trade value. He has not played since a nine-minute stint off the bench while on loan at League One side Stevenage on Dec. 8, and he played sparingly for Leeds United and Stevenage since leaving MLS.
No matter the hurdles, if Rogers wants to come back to play in MLS, which he has indicated he does in his most recent public comments, he will almost certainly do so in Los Angeles. Make no mistake about it, the uniqueness of this situation is uncharted territory for Rogers, the Fire, the Galaxy and MLS. In its simplest terms, the individual needs to be in close proximity to his support system in order for this to work. Somehow, all parties involved will find a way to make that happen. There is too much at stake for them not to.
Follow AVI CREDITOR on Twitter.
BEFORE YOU GO