The fate of The Rolling Stones' global fame may have been within Keith Richards' grasp on May 7, 1965, when the singer-songwriter and guitarist woke up early that morning, grabbed a cassette recorder and strummed out the opening hook for "(I Can't Get No) Satisfaction." Forty-eight years later, the song has remained a perennial classic often hailed as one of rock 'n' roll's greatest entries.
At the time of Richards' musical inspiration, The Rolling Stones had only made a mild splash in America, with "Time Is On My Side" and the newly released "The Last Time" serving as the band's only hit singles to date. "Satisfaction" became the Stones' doormat to superstardom, and its opening riff has become one of the most recognizable in rock history.
The band has since recounted the fact that, despite having written it, Richards himself was not a fan of the "Satisfaction" tune that poured out of him that morning. He thought it was a joke, but the band vehemently -- and thankfully -- disagreed. Mick Jagger had already thought up the line "I can't get no satisfaction," and he immediately began to compose the song's verses. The band recorded the track from May 10 to May 12, 1965, during an 18-hour studio session.
"(I Can't Get No) Satisfaction" was released as a single on June 6 of the same year, and on July 10 began its four-week run at the top of the Billboard chart. In 2004, Rolling Stone magazine named the song the No. 2 greatest of all-time, second only to Bob Dylan's "Like a Rolling Stone."
The Rolling Stones perform on the British music show "Thank Your Lucky Stars":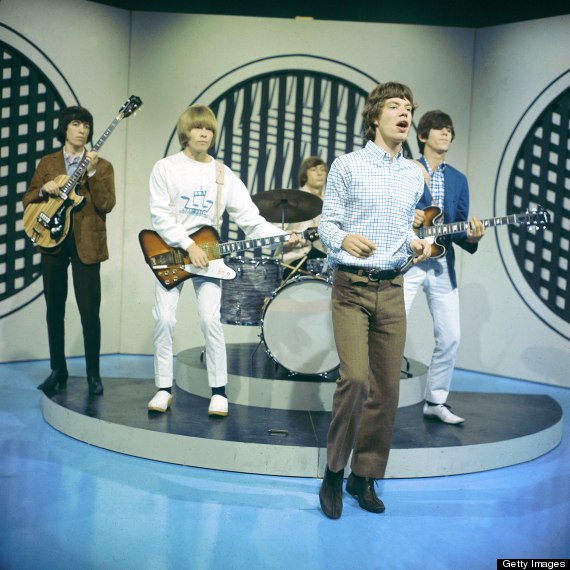 PHOTO GALLERY
Rolling Stones 50
BEFORE YOU GO