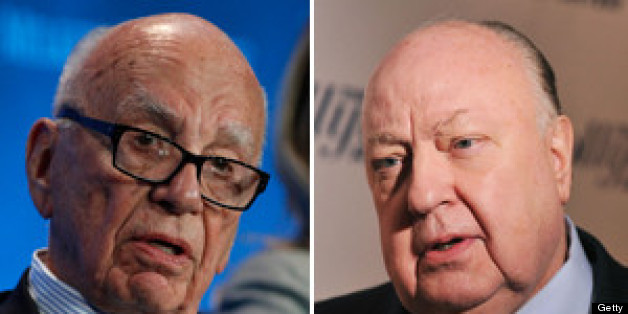 Another tidbit about Roger Ailes from Jonathan Alter's new book: Rupert Murdoch reportedly thinks the Fox News chief is "cuckoo."
New York magazine previewed part of the book, "The Center Holds: Obama and His Enemies," on Tuesday, highlighting Alter's report that Murdoch frequently refers to Ailes as "cuckoo," "bonkers," "nuts," and "crazy" — but knows that he brings in profits. Murdoch once reportedly joked to other executives, "Roger came in over the weekend to work in the only room that he thought was secure — a supply closet."
Murdoch, the CEO of News Corp., hired Ailes to create Fox News in 1996. The two are the people most responsible for the network. Ailes once told biographer Zev Chafets that he doesn't know if Murdoch really likes him as much as he says.
Alter's book is the most recent to discuss Ailes, and opened with another anecdote about the Fox News president. Geraldo Rivera, according to the account, was defending the Obama administration a few days before the November election. After watching him argue with another Fox News host for several minutes, Ailes reportedly cut off Rivera's microphone. Rivera denied that that happened.
BEFORE YOU GO
PHOTO GALLERY
Faces of Fox News