For nearly five years, photographer Mike Brodie documented the lives of freight train-hoppers -- nomadic kids who managed to freely navigate the United States by way of railroad tracks. The resulting images have been collected together in a poetic series titled, "A Period of Juvenile Prosperity," shedding light on the hidden world of America's young drifters.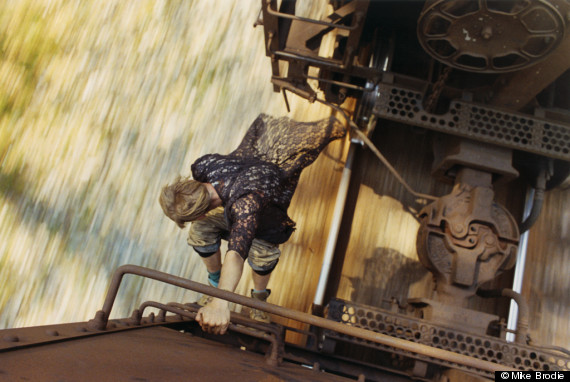 Brodie is an experienced freight train traveler, a quality that makes his subcultural project so genuine. He took to train-hopping when he was 17, eventually maneuvering over 50,000 miles through 46 states in his early 20s, snapping pictures with his Polaroid and 35mm cameras along the way. He later uploaded the images to the internet under an online moniker, "The Polaroid Kidd," and watched as his gorgeous shots made their own way across the digital world.
A decade after his first cross-country adventure, Brodie's photos were recently published in a book by Twin Palms Publishers and have traveled to exhibitions across the U.S. "I have mixed feelings about the photographs being in an art book and on the walls of art galleries," Brodie remarked to The Guardian, "and so do some of the kids I photographed when they come to the openings. You have a lot of worlds colliding right there."
The Huffington Post attempted to contact Brodie to get his thoughts on his newfound fame, and his representative wrote: "Brodie is traveling and does not want to speak on the photos any longer." He continued, "He is not making new work. One and done." (Well, that answers that, we guess.)
Scroll through the images below for a look at this much-viewed project, and let us know what you think of the world of train-hopping in the comments.
PHOTO GALLERY
A Period of Juvenile Prosperity