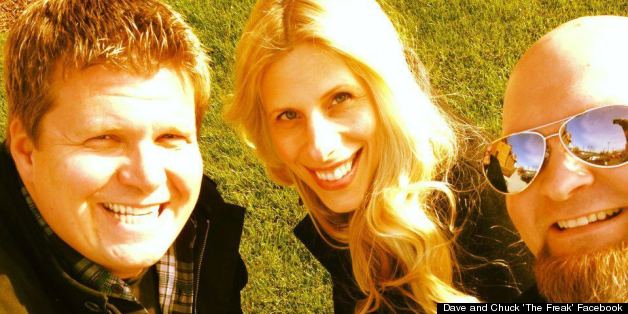 Fans of one of Detroit's popular and raunchy radio personalities "Dave and Chuck 'The Freak'" received some good news Wednesday.
The show, which also features Lisa Way, is returning to the airwaves after leaving 89X (CIMX 88.7 FM) in November, and is set to take over a morning slot on WRIF 101.1 FM beginning this month, WDIV-TV reports.
The radio personalities, who go by Dave Hunter and Charles Urquhart in daily life, will be replacing Drew Lane and Mike Clark, the duo that mans the mic at WRIF from 5 to 10:30 a.m. weekdays. Sources told the local news station the last "Drew & Mike in the Morning" show will air May 17.
On Twitter, drive-time radio fans were mostly jubilant to welcome the show back to the radio dial:
But others wondered if the WRIF made a good call for their listeners:
There had previously been hints the show would stay in the Detroit area, though Hunter and Urquhart kept the whereabouts of their new home under wraps. According to Crain's Detroit Business, Hunter and Urquhart quit 89X in November with a six-month no-compete clause in their contract. At the time, they posted a farewell on Facebook:
Unfortunately we can't go into detail, but as of today the Dave and Chuck "the Freak" show is no longer a part of the 89X line up.
We greatly enjoyed our time at 89X for over a decade, made some great friends, and are so thankful we got to be a part of your lives every morning.
We have the best listeners in the world, and you guys entertained us as much as we entertained you.
They had hinted they would keep their show in the Detroit market.
Until they return, Dave and Chuck have been keeping the (mostly inappropriate) jokes flowing on Facebook and Twitter, if you need something to take your mind off the morning or afternoon. And here are some more options:
PHOTO GALLERY
7 Sites You Should Be Wasting Time On Right Now
BEFORE YOU GO