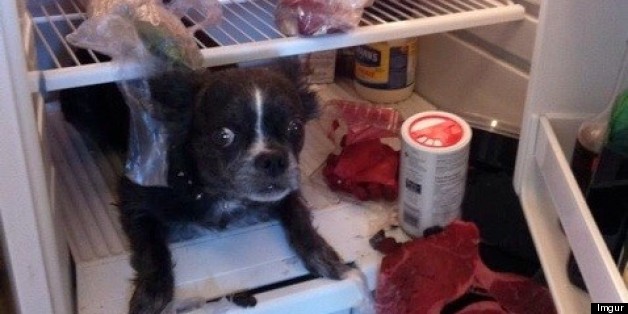 At least she won't starve in there!
This picture of a dog hiding in a refrigerator is just about the most amazing picture ever taken of, well, a dog hiding in a refrigerator.
Posted to the r/funny subreddit on Monday, the photo of the pooch has already been viewed more than 1 million times. Redditor TheNinjaJedi says this is a candid snapshot.
"No word of a lie, this is what I just came home to," the user wrote.
The poster later elaborated on the circumstances behind the hilarious photo. Apparently, there is construction going on outside the apartment, which "scares the crap" out of the unfortunate puppy.
"I'm pretty sure this started as a hideout spot, although I have no idea how she managed to actually get in," TheNinjaJedi notes.
Apparently, other dogs have tried to hide in fridges but have had limited success.
However, in 2011 a runaway dog in Arizona managed to jump into a shocked homeowner's refrigerator and refused to come out, according to the Associated Press. Eventually, fire fighters wearing protective gear had to be summoned to remove the dog, which was eventually reunited with its owner.
(h/t MSN)
LOOK:
BEFORE YOU GO
PHOTO GALLERY
The Weirdest Things People Have Come Home To