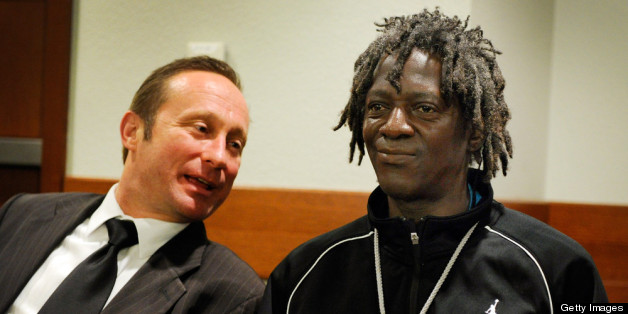 It seems the clock around Flavor Flav's neck is ticking, as he'll soon have to face the felony assault with a weapon and child endangerment charges resting on his shoulders.
According to Billboard, a Las Vegas judge has scheduled the 54-year-old's trial date for September 30. During his arraignment on Tuesday, which was originally postponed last month due to his induction into the Rock and Roll Hall of Fame, the rapper, whose real name is Jonathan Drayton Jr., reportedly pled not guilty to charges accusing him of chasing and threatening his longtime girlfriend's 17-year-old son with a butcher knife during an argument last October.
Last month the Associated Press reported that the teen testified during an evidence hearing in Las Vegas Justice Court and stated that;
The argument began when Drayton woke the boy during a 3 a.m. argument with the boy's mother, Elizabeth Trujillo, with whom he has lived with for about eight years. It escalated when the teen, a 6-foot-3, 200-pound high school football and basketball player, wrestled the 5-foot-6 Drayton into a head lock in the kitchen.

"I told him, `You're not going to talk to my mom like that,'" he testified. "He pushed me. ... I pushed him."
If convicted on all charges, Flavor Flav could face up to 12 years in prison.

BEFORE YOU GO
PHOTO GALLERY
Iconic Album Covers