 Floyd "Money" Mayweather Jr., fresh off his unanimous decision victory over Robert Guerrero, sat down with The Huffington Post in New York City to discuss his latest fight, having his dad back in his corner, serving two months in jail for domestic battery, and of course, his recreational gambling activities. The 36-year-old Mayweather, who has yet to lose a professional fight, also discussed his six-fight, 30-month contract with Showtime/CBS, his post-boxing career and why he's never going to fight Manny Pacquiao.
First of all, how are you feeling? It didn't look like you got hit very often Saturday night.
It's always great to get through a fight without taking any punishment. I'm happy with how everything played out.
You had your father, Floyd Sr., back in your corner. What did that do for you?
I always want to perform well for myself. I truly believe in self-preservation, but my dad will always push you to the limit because he wants the best from an athlete. He wants the best for all fighters that he's working with. My dad had a tremendous game plan with a great camp. We was working hand-to-hand, but my uncle Roger is still working with me also. Me, my father and Roger, the chemistry was great this training camp. First time we all worked together, all three of us.
Is that combination of your father and uncle something you anticipate using again moving forward?
Yeah, I think we're going to stick to this regiment because we had great results.
When you came back from jail, was there ever any doubt in your mind in terms of whether or not you could box again, at least at the same level as before?
You still want to be sharp. The main thing is you gotta keep believing, and that's one thing about me. I kept believing.
What impact did your jail sentence have on you mentally and psychologically?
It was a crucial moment for me, being locked away. Of course when I came home, mentally it still was in the back of my mind. Each day is getting better, but that situation continues to be on your mind. You think about it all the time. That's something I don't wish on my worst enemy.
Not only at this point, but after these final five fights, what is your boxing legacy?
My legacy is I feel like I changed the sport totally, as far as you know, when I got into the sport it was about heavyweights. You no longer see heavyweights on networks. Just how business deals are structured, and that's not just in boxing, but in sports, period. I think I was very entertaining, a little different. I played more of the villain role throughout my career and it paid off in the long run. And just I want to be known as one of the smartest fighters. Mayweather, Jr., with his father after Saturday's win, tells HuffPost, "I don't really have a diet because I walk around at my fight weight." (AP)
I am glad you brought that up. Aside from your physical tools, what does it mean to also be associated with such intelligence in the ring as well?
It's a blessing. I feel very, very honored when people say certain things that I'm a smart fighter. It's been a long road. I had a great team.
How much longer will that road be for you?
29 more months.
The duration of your deal with Showtime.
We passed one, we got five more. We'll take our time and I think we'll get the job done right.
Your recent contract with Showtime/CBS is quite special and very rare. How did it actually come together?
Al Haymon [boxing advisor], Leonard Ellerbe [Mayweather adviser] and myself, we talked for a very, very long time after the Miguel Cotto fight [May 2012], and we said well, 'What's the next thing for Floyd Mayweather?' And we done some negotiating and we made it happen.
Regardless of era, is there a fighter that maybe inspired you the most throughout your career?
There's so many legendary champions that opened up the door and paved the way for me to be where I'm at today. And I'm thankful. And I can't name just one fighter because I took a little bit from all the legendary fighters and put it all together.
We have seen such an infusion of popularity over UFC and the MMA as a whole. What is your stance on that?
I take my hat off to those guys. They've done a tremendous job and I wish them nothing but the best.
At this stage, what is the hardest part about staying in peak shape?
I wasn't getting myself in tiptop condition to be the greatest boxer. I was working to be the best athlete. One of the best athletes to ever live. When you mentally prepare yourself for something of that level or magnitude, I mean, it make you want to do nothing but push, day in and day out.
Do you have a diet that you follow then?
Well, I don't really have a diet because I walk around at my fight weight. I can basically eat anything, but if I cheat, it make me work that much harder.
You've had a publicized falling out with 50 Cent, whom you used to call a dear friend. Is that real and, what happened exactly?
It's real, yes. It's just that in business, I felt like I handled it like a gentleman. We didn't see eye to eye on business. I couldn't give nobody half of my empire, but it's no hard feelings.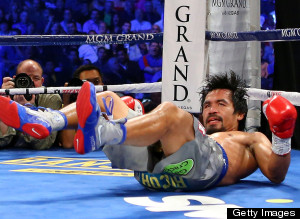 Of a potential fight with Manny Pacquiao, Mayweather tells HuffPost: "Why am I fighting a guy that just took two losses?" (Getty Images)
Is that a relationship you could reconcile then?
I really don't know, but at this particular time, my focus is building the Money Team brand and keeping the Mayweather name out there, and helping the sport of boxing.
It's also pretty well known that you enjoy gambling on sports.
Well, like I said before, I like to gamble a little bit. I do a little bit.
Is that "little bit" a relative term though?
Well, you know, gambling don't define who I am as a person. I didn't gamble yesterday; I'm not gonna gamble today. It's nothing I have to do. It's not like I'm addicted.
What is your favorite sport to bet?
College football. Yeah, I love college football.
And your favorite team?
To get you the money?
Exactly, yes.
Oregon Ducks.
What would you say to the person who says boxing isn't what it used to be?
I feel what I'm making cool in the sport is this: I mean, you can turn to boxing every day of the week and see two guys bash each other heads in, bloody each other nose, bloody each other lips. You see so many bumps and bruises, broken rib, broken jaw, broken nose. But I think what's so cool about my career is that I've been able to dominate 'A' level compeition and 'B' level competition and make them look ...
Like 'D' level?
Like they're 'D' level competition, and without taking any abuse and going to retire with all these faculties and still be sharp and be smart and making smart investments.
Looking back on your career, was there one fight that had the toughest physical toll on you? Maybe the Jose Luis Castillo fight in 2002 or the Zab Judah fight in 2006?
Sometimes you're sore from all the tussling and wrestling, but probably ...
Because I remember in the Castillo fight you were hurt.
Well, I hurt my arm prior to going into the ring, like three days before the fight. Um [silence].
If there is none, that's okay too.
There's really no fight that stands out. All of them played a major key to help me get to where I'm at today. Mayweather training with his uncle, Roger Mayweather, before his bout with Roger Guerrero. (PA)
You've always said that you don't watch tape of your opponents, but what about of yourself, perhaps during a sparring session?
I don't like to really watch tapes of myself, because I'm a critic. I always feel I could have done better.
But it's hard to do better when you've never lost a fight.
Still you always wanna do better. That's a part of trying to be the best.
What if Manny Pacquiao came to you and said, 'I want to fight. I will take all of the tests so that we can fight.'
That fight no longer holds weight.
Because he lost twice?
If he did, if he didn't. It no longer holds weight. That's not my focus. My focus is myself. Like I said before, I mean it's just basic common sense. Why am I fighting a guy that just took two losses?
Your deal with Showtime spans 29 more months and five more fights. What comes next for you?
I don't know. We don't know, but we gonna continue to promote, build the Mayweather brand ... and hopefully the Mayweather brand will soon one day be a Fortune 500 company.
Email me at jordan.schultz@huffingtonpost.com or ask me questions about anything sports-related at @Schultz_Report.