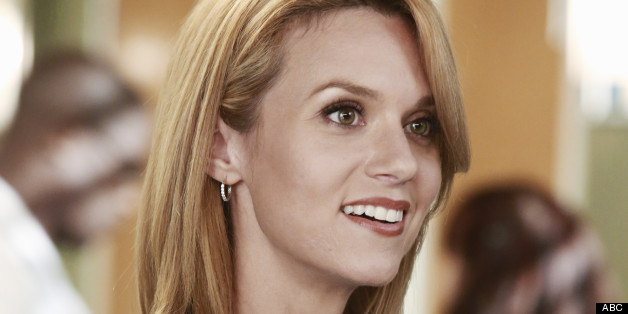 "Grey's Anatomy's" very vocal Calzona fans -- people who ship the show's married couple Callie (Sara Ramirez) and Arizona (Jessica Capshaw) -- were not pleased last week. (And, yes, that is a huge understatement.) And it doesn't sound like this week will bring them any peace of mind.
With the arrival of Dr. Lauren Boswell, played by "One Tree Hill" alum and "White Collar" star Hilarie Burton, the already-rocky Calzona marriage began to appear even more unstable. And knowing that Burton is returning for this week's penultimate episode of "Grey's Anatomy" Season 9, "Readiness Is All" (Thurs., May 9 at 9 p.m. ET on ABC), and the big superstorm is hitting this week ... well, just don't expect a calm before the storm.
I caught up with Burton -- who is no stranger to the show since she dates and has a son with "Grey's" alum Jeffrey Dean Morgan, who played the ill-fated Denny Duquette -- to hear about her stay at Grey Sloan Memorial, her shameless flirtation with Arizona and happily not knowing a thing about the fan reaction to her arrival. She also teased a bit about how far things go with Arizona and who's really to blame. Keep reading for more!
So much backlash already and you have barely been on the show! Did you see this coming?
No! You know, I talked to Jessica after they aired last week's promo with that big "Unfaithful" tag on it, and she was like, "I'm getting death threats and shit." [Laughs.] I don't engage in social media, which has its good and bad sides, I guess -- but the good side is when people hate my guts, I'm kind of oblivious to it. I'm just worried about my kid and my dog here at the house. [Laughs.] Other than the text messages I've been getting from my friends from high school ... I've pretty much stayed out of it. I think it helps me do my job -- I can just focus on doing what I need to do, and hopefully, people don't hunt me down.
But you knew going into this that Callie and Arizona are like the lesbian power couple in all of television. Did you realize that you were going to be stepping in between them?
I realized that I was going to cause some friction. As an actor, I guess my job is to go in and try to help justify why that friction is there. If I came in and was just a total sleaze and Arizona was still flirty, it would make her look bad. So I'm trying to portray someone that, yeah, may be a little morally gray because she really doesn't care if Arizona's married -- she's gonna flirt with her anyway. But she's also someone that's likable and really good at her job and engaging. I don't know if I'll succeed at it [laughs], but I'm trying to make Arizona's decision tough.
But you're not the married one, so it's not really totally on you ... right?
Well, you know what? It takes two to tango! I don't flirt with married people, but Lauren does. So that's what I had to do for a couple days. You just buck up and you get your flirt on.
So a couple days. How long are we going to see Lauren at the hospital? That surgery looks pretty complicated. It could take a while ...
It is very complicated, and a superstorm is coming! So I will be in the finale as well. That changes everything, right? I've gotta put a bigger fence up.
Seriously! Superstorm happens, you're all stuck in the hospital, things happen ...
Exactly. It's close quarters and tensions are running high. And anytime you share an experience with someone that is either really frightening or really exhilarating, it's like that last scene in "Speed" where Sandra Bullock and Keanu Reeves are kissing because they just got out of this experience together ... [It's] that sense of, "Oh, we're the only two that know what it's like to go through this!" That can be intoxicating to some people.
I just wouldn't want to piss Callie off. She's tough.
She is tough! And she's super cute. I mean, my best friend was telling me that he'd read some reactions like, "Why don't they just have all three girls hang out. That seems cool."
It could be the first super lesbian three-way on network TV.
That would be a really progressive household that I would be so proud to be part of.
Oh now you're moving in with them? Slow down.
Oh yeah! [Laughs.] They were really so welcoming, and it's just a really nice group. Anytime there's a show that's been on air forever and ever and ever, you've gotta figure they've got a new guest star every single episode for a decade. So the effort people put into including me, I was really warmed by it. They're a kind group.
What can you tease about this surgery and this episode?
I can say that they have a great day. They're working on this surgery -- it's an infant with a facial cleft -- and it's a pretty complicated surgery, which is why Lauren was flown in in the first place. I think what this episode is about is Lauren coming in as someone who's really supportive of this group of people. This is a group of people that've faced a lot of drama and bad news. She comes in as someone who's really impressed by what they've done, buying the hospital and moving forward. I wanted to be a character that championed these people. And it's a great day. It's a fun episode for Arizona and Lauren and Jackson, who are working on this surgery together.
The surgery is difficult, but so is the language. Did you have to go through some kind of Shonda Rhimes medical speed-talking bootcamp?
There were some big words. I have to imagine for anybody guesting on "Grey's" that the language is one of the more intimidating aspects of the show. My best friend works in the ER, so I like to run things by her. But I didn't know that I was going to enjoy doing the fake surgery -- I really liked it! I really liked playing with those scalpels and things! I'll tell you what: Next time my kid or Jeffrey has to go to the doctor for anything, I'm going to think I'm such a pro because I've done this doctor job. [Laughs.] I played a doctor on TV!
Check out ABC's official description of this week's episode below and tune in for "Grey's Anatomy" on Thursdays at 9 p.m. ET on ABC.
"Readiness is All" – The doctors of Grey Sloan Memorial Hospital prepare for a super storm heading towards Seattle; Owen's desire to be a parent gets stronger as he becomes closer to Ethan; and one wrong move puts the lives of Meredith and her baby in jeopardy. Meanwhile, Jo looks to Alex for help in a moment of crisis, and one doctor gets the shock of her life.
PHOTO GALLERY
Summer TV Guide
BEFORE YOU GO