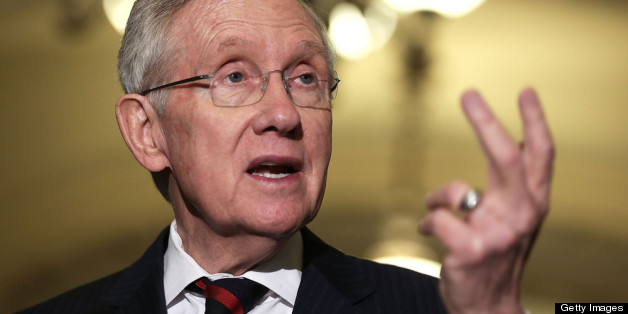 Senate Majority Leader Harry Reid (D-Nev.) said he declined a request from former Sen. Pete Domenici to meet last week, pointing to the New Mexico Republican's recent admission that he secretly fathered a child during an extramarital affair 30 years ago.
Reid's comments came while discussing efforts to address mental health in an interview with the Las Vegas Review Journal on Monday. The Nevada senator cited Domenici as a strong advocate for improving mental health care during his time in Congress, but went on to say he had turned the former senator down when Domenici asked for an appointment last week.
"I don't mention Domenici's name anymore because of what he did to Michelle Laxalt," Reid said. "I wouldn't let him come and see me. But anyway, that's another story."
Domenici disclosed earlier this year that he had secretly fathered a child in the 1970s with Michelle Laxalt, the daughter of Paul Laxalt, a former Nevada senator and governor. Domenici and Michelle Laxalt announced the relationship through statements to the Albuquerque Journal, in which they identified their son as Nevada attorney Adam Paul Laxalt. At the time of their affair, Domenici was 46 and Michelle Laxalt was 24.
The revelation was startling to many, as Domenici held the image of a family man during his six terms in the Senate. He and his wife have been married more than 50 years and have eight children.
"I deeply regret this and am very sorry for my behavior," Domenici said in February. "I hope New Mexicans will view that my accomplishments for my beloved state outweigh my personal transgression."
BEFORE YOU GO
PHOTO GALLERY
Politicians Who Wanted A Second Chance