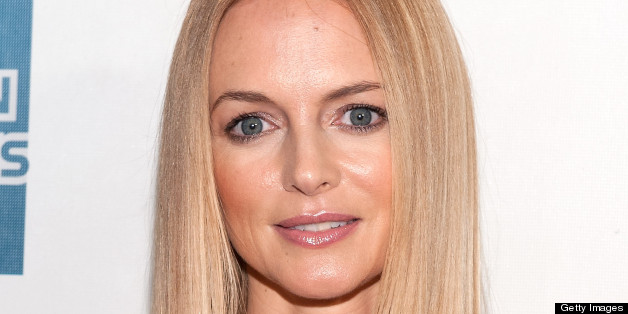 It's hard to believe sexy vixen Heather Graham is 43, especially when she reprises the role of stripper opposite Ed Helms in "The Hangover Part III" (in theaters May 24). But the gorgeous actress has no difficulty putting her age in perspective. In an interview with Vegas magazine, Graham opens up about sex, marriage (or lack thereof), and what it takes to look like she does (hint: like all sizzling celebs, she's into yoga).
"I was taught to be demure," says Graham, who was brought up in a strict Catholic family, "so it was harder for me to learn how to stand up for myself and go, 'What do I want? What are my desires?'" When asked by Vegas magazine what her desires are, Graham says with a laugh, "Good sex!"
Which might account for her impressive dating resume. Per Vegas, Graham has been romantically linked to Edward Burns, James Woods, Matt Dillon, Kyle MacLachlan, Leonardo DiCaprio, Benicio Del Toro, Russell Crowe, Scott Speedman, Matthew Perry, Adam Ant and most recently Jason Silva.
"I want to choose better for myself," she tells the magazine. "I think everyone I've dated has been great, but maybe not the most compatible match ... I kind of feel like I dodged a bullet. I'd rather be happily single than unhappily married. In the meantime, I'm having a lot of fun."
As for her killer body that attracts all the A-list men, Graham credits Pilates and yoga. And despite growing older in front of the cameras, Graham says she doesn't feel the need to nip and tuck and plans to age naturally.
"I have not ever opted to do surgery, because it's scary," she tells the magazine. "Maybe some people get it done and you can't tell and that's great, but I feel like it makes your face look weird. I think if you're happy, then that's the glow."
For more on Graham, "Hangover III" and what her famous co-stars think of her, click over to Vegas magazine.
BEFORE YOU GO
PHOTO GALLERY
Amazing Celebrity Bodies Over 40