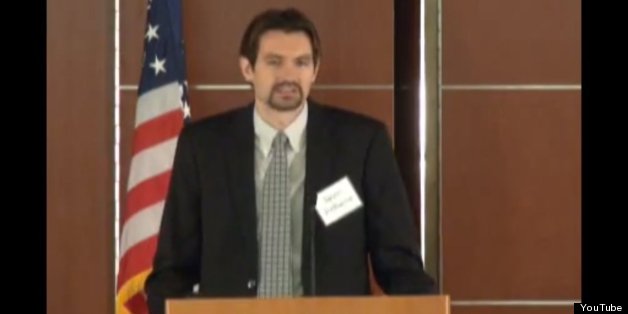 The Latino community was quick to criticize Jason Richwine, co-author of a controversial report on the costs of immigration reform, when he was linked to a 2009 paper suggesting Hispanic immigrants to the United States have lower IQs than "white natives."
Richwine is a senior policy analyst at The Heritage Foundation, a Washington-based conservative think tank, which he joined in 2010 after earning a doctorat in public policy from Harvard in 2009. His doctoral dissertation, titled "IQ and Immigration Policy," was recently unearthed by The Washington Post's Dylan Matthews, who reports that Richwine believes "there are deep-set differentials in intelligence between races."
Richwine wrote the following in his dissertation:
No one knows whether Hispanics will ever reach IQ parity with whites, but the prediction that new Hispanic immigrants will have low-IQ children and grandchildren is difficult to argue against. From the perspective of Americans alive today, the low average IQ of Hispanics is effectively permanent.
News of Richwine's unconventional opinions was seized upon by critics of the Heritage Foundation's latest -- and controversial -- study, which argues that any immigration reform allowing undocumented immigrants a path to citizenship would cost taxpayers $6.3 trillion.
Ana Navarro, a GOP fundraiser, strategist and CNN political analyst, and ABC News' Cristina Costantini were among those in the Latino community who took to Twitter to voice their objections.
Author of Heritage's immigration study thinks Hispanics have lower IQ's than whites. That is called racism. Shameful. bit.ly/16h9iwu

— Ana Navarro (@ananavarro) May 8, 2013
Can't believe we're still having conversations about IQ as it correlates with race/ethnicity. washingtonpost.com/blogs/wonkblog…

— Cristina Costantini (@xtinatini) May 8, 2013
Congressional Hispanic Caucus Chairman Rep. Ruben Hinojosa (D-Tex.) released a statement, calling Richwine's assertions racist and untrue.
"In fact, immigrants are twice as likely to start a small business as native-born Americans and countless studies have shown the benefits of immigration on the economy," he countered.
The Atlantic's Elspeth Reeve also disputed the accuracy of Richwine's claims. In response to his argument that "average IQ of immigrants in the United States is substantially lower than that of the white native population," Reeve countered that IQ is partially inherited but that scientists still don't know which genes affect what. As for Richwine's claim that immigration will lead to "a lack of socioeconomic assimilation among low-IQ immigrant groups," Reeve pointed to a column by The New York Times' David Leonhardt to illustrate that "Latinos are assimilating at about the same rate as earlier immigrant groups."
On Wednesday, The Heritage Foundation released statements distancing itself from Richwine's dissertation.
"This is not a work product of The Heritage Foundation. Its findings in no way reflect the positions of The Heritage Foundation," Heritage VP of Communications Mike Gonzalez told BuzzFeed. "Nor do the findings affect the conclusions of our study on the cost of amnesty to the U.S. taxpayer."
View the video (below) to see Jason Richwine discussing immigration and culture during the 2012 Social Contract Writers Workshop in Washington, D.C.
BEFORE YOU GO
PHOTO GALLERY
Dumbest Commentary About Latinos In 2012