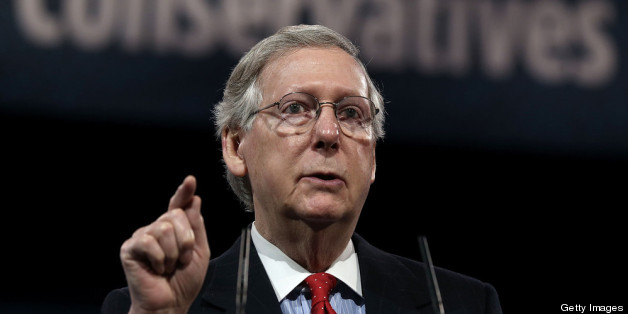 WASHINGTON, May 8 (Reuters) - The Senate's top Republican on Wednesday came out strongly against President Barack Obama's labor secretary nomination, accusing Thomas Perez of being a crusading ideologue who would bend the laws to advance his agenda.
The comments from Senate Minority Leader Mitch McConnell suggest that Republicans will throw up procedural hurdles to prevent Perez from serving as the Obama administration's next labor secretary.
"Unbound by the rules that apply to everyone else, Mr. Perez seems to view himself as free to employ whatever means at his disposal, legal or otherwise, to achieve his ideological goals," McConnell said on the Senate floor.
"To say this is problematic would be an understatement," the Kentucky senator said.
Among the litany of concerns is Perez's tenure at the Justice Department, where he currently serves as the assistant attorney general for the civil rights division.
Republicans allege that Perez entered into a quid pro quo deal with St. Paul, Minnesota, in which he got the city to withdraw a Supreme Court appeal in exchange for the department not filing charges alleging St. Paul had filed false claims in a government funding application.
Perez denies the allegations.
The Senate Health and Labor Committee was scheduled to vote on Perez's nomination later on Wednesday. But Republicans invoked an obscure rule that prevents committees from meeting when the Senate is in session.
The committee is expected to hold the vote next week, marking the second time the panel has had to reschedule the vote due to Republican maneuvers. Although Obama's Democrats control the Senate 55-45, they would need 60 votes to clear a procedural roadblock.
The White House said Republicans were "politicizing" the nomination and brushed away concerns that it was in trouble.
Two of Obama's other cabinet picks, Defense Secretary Chuck Hagel and Central Intelligence Agency Director John Brennan, had a tough time winning confirmation by the Senate but eventually succeeded.
The nomination of Ernest Moniz, Obama's pick to head the Energy Department, has stalled over a dispute with a South Carolina senator about the government's management of a nuclear waste disposal project in the state. (Reporting by Rachelle Younglai, Roberta Rampton, Ayesha Rascoe; Editing by Cynthia Osterman)
BEFORE YOU GO
PHOTO GALLERY
Say Cheese! Mitch McConnell Smiles