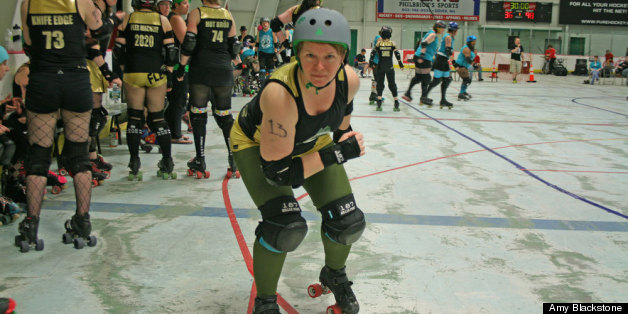 One of the reasons I started my website is that I wanted a place for women to come together and dream. We women need to know that we don't have to hang on to an old dream that has stopped nurturing us -- that there is always time to start a new dream. This week's story is about a woman who dreamed of becoming a roller derby queen since she was a little girl, but didn't have access to a local league until later in life. Amy never imagined that she would strap on her skates at 40, but the university professor, who is now known as "Wined Up" on the track, has become a key member of the Central Maine Derby. -– Marlo, MarloThomas.com
By Lori Weiss
Like many little girls, Amy Blackstone spent hours and hours listening to music and spinning in circles to the songs. And once a week, her mother would dress her up like a princess, hoping she'd refine those skills with a little instruction from a ballet teacher.
"That didn't last very long," Amy laughed. "It was a fight to get my leotard and tights and tutu on each week. I used to scream and cry because everything was so itchy. And then one day, my mother gave me an ultimatum. If I agreed to stop whining, I'd go to class. But when I didn't stop, she picked up the phone and I heard her say, 'Amy won't be attending ballet class anymore because her tutu is too itchy.'"
The truth is, Amy didn't miss ballet at all. She just went right on spinning -- because in her mind, she wasn't really dancing. She was a roller derby queen.
"We weren't allowed to watch much television," she explained. "My parents have a lot of hippy in them. So I didn't actually know exactly what roller derby was. But they had a Jim Croce album that I discovered and fell in love with, so I spent much of the '70s curled up around the record player, listening to Jim Croce croon about the Roller Derby Queen he'd fallen in love with."
"As the song goes, he was in a bar and catches a derby on TV and sees this woman who is large and strong and he's enthralled. The description of this woman, that no one would want to mess with, drew me in and I remember thinking that this was just the sort of royalty I might like to become one day!"
But there was no roller derby in suburban Minnesota, at least not for seven year old girls. So Amy found another outlet for her spinning. She took up figure skating and by the time she turned 10, the roller derby queen had became a childhood memory -- until five years ago, at the age of 36, when it all came flooding back.
"A friend had moved to Portland, Maine and they had a roller derby league there. She was a big fan and asked me to come see a bout. I fell in love instantly. Here were all these women who were strong and tough, yet sexy and appealing. They were wearing fishnets and booty shorts, but they had tattoos on their faces. There was something about the combination of grace and toughness and athleticism that I found fascinating. It was everything Jim Croce said it would be and more."
Article continues below slideshow.
PHOTO GALLERY
It Ain't Over: Amy Blackstone - Roller Derby Queen
And while Amy toyed with the idea of joining, she was living two hours away in Bangor, where she chairs the department of sociology at the University of Maine. Driving two hours each way didn't fit into her work schedule or her life. So she resigned herself to remaining on the sidelines -- cheering as other women spun around the roller derby track. Until one day, in a downtown Bangor bar, she ran into one of her students.
"She was all decked out in a roller derby outfit!" Amy recalled. "When I asked about it, she told me a league had started in our town and when I told her what a fan I was, she invited me to attend a fitness skate. I was really nervous. I hadn't been on skates in 30 years. But I knew if I could stand up on those skates, I was going to join that league. My husband, Lance, was a little more cautious than I was. He wasn't sure a 40 year old body could take the kind of hits a 20 year old can."
So, thirty years from the time she'd put away her childhood fantasy of becoming Roller Derby royalty, Amy was out on the track, surrounded by women who ranged from 18 to 52 -- and went by names like Amazing Graceless and Kicking Asphalt.
"I stepped out onto the track and fell," she said with a smile. "And then I fell again. I loved every minute of it!"
After a few more skates, Amy got the nerve up to ask about joining the Central Maine Derby league and it wasn't long before she was scrimmaging with the best of them. She was on the track with nine other players -- learning how to block and jam and take a roller derby hit without wiping out. The league's first game against the RIP Tides was coming up and secretly Amy hoped she'd be picked for the starting line-up.
"The coach sent out an email saying that she'd be posting the roster later that night. I was beside myself. I felt the same way I did the day I finished my dissertation and was waiting to find out if the committee had passed me. I sat in front of the computer most of the afternoon waiting. And when I saw my name on that list I started screaming."
The bout was three weeks away and Amy, aka "Wined Up," the roller derby name she'd chosen as an ode to her love of wine and her tendency to get a little wound up about things, began to prepare. She found sparkly gold booty shorts and a gold and black skirt. And in a show of support, Lance surprised her with a set of temporary tattoos.
"I had words like robust, full bodied, well-aged and bubbly down one side of my face," she said with a smile, "and a wine glass on the other. On the back of my neck there was a corkscrew. I was a little concerned because the bout was on a Sunday and I had to do a new student orientation on Monday and when we put on that first tattoo, it didn't come off very easily! I wasn't worried about what the kids would think, but I was a little concerned about the parents."
But when the ladies of the Central Maine Derby league rolled out onto the track and were greeted by 1,200 screaming fans, any concerns Amy may have had about her costume quickly melted away.
"People were screaming and clapping. I had goose bumps! And they were chanting in the stands! I've lived in Bangor for ten years, but I've never felt more like I belonged."
In the end, the RIP Tides took that first game, but by their next bout, the women of the Central Maine League scored big -- beating the Seacoast Roller Derby's Vicious Valkyries 367 - 85! There's no question, that if Jim Croce was still alive today, Amy would be giving him something to sing about.
"I have to admit that as I was turning 40, I wasn't all that happy about it," she reflected. "I was starting to notice wrinkles. It hurt more to run than it did five years ago and my weight was creeping up. It would have been so easy to tell myself I shouldn't try or that I'm too old."
"But when I was out on that track and holding my own, I began to realize that age doesn't have to be a handicap. I realized I'm as young now as I'm ever going to be. And I feel stronger than ever."
CORRECTION: A previous version of this article referred to the first team that Central Maine Derby faced as the "Ripped Tides." The correct team name is the "RIP Tides."
Add Marlo On Facebook:
Follow Marlo on Twitter:
Sign up to receive my email newsletter each week - It will keep you up-to-date on upcoming articles, Mondays with Marlo guests, videos, and more!