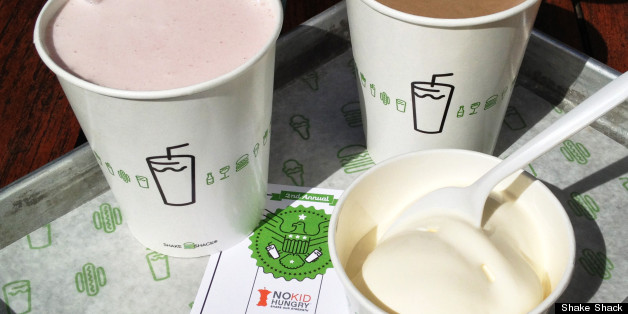 WASHINGTON -- Helping others never tasted so good.
Throughout the month of May, burgers-and-milkshakes joint Shake Shack is participating in the Great American Shake Sale to raise money for Share Our Strength's No Kid Hungry campaign.
For each donation of at least $2, guests will receive a gift card for a free milkshake. One hundred percent of the donated money benefits No Kid Hungry.
After raising $135,742 last year during the first Great American Shake Sale, Shake Shack has set a goal of $150,000 for Year Two.
Here in Washington, D.C., nearly 20 percent of the population lives in poverty. According to the Food Research Action Center, 37.4 percent of D.C. households with children experience food hardship, meaning they sometimes don't have enough money to buy food.
No Kid Hungry focuses on child hunger both in the District and nationwide. In a recent HuffPost blog, Share Our Strength founder and CEO Billy Shore wrote about one No Kid Hungry success in Maryland:
In Maryland, the No Kid Hungry campaign's efforts to increase participation in the federal School Breakfast Program has already had important impact on students. Schools in Maryland that have moved breakfast out of the cafeteria and made it part of the school day have seen as much as a 7.2 percent lower rate of chronic absenteeism and students in those schools were up to 12.5 percent more likely to achieve proficiency on standardized math tests.
In the spirit of that classic American fundraising drive -- the bake sale -- Shake Shack's May flavors include Lemon Meringue, Black & White Cookie, Oatmeal Creme Pie, Olive Oil Cake, Chocolate Chip Cookie, Spiced Chocolate Brownie and Banana Bread.
Let's Share Our Strength (but not our shake).
PHOTO GALLERY
Spiked Shakes In D.C.
BEFORE YOU GO