As unemployment in the eurozone hits record highs, the Wall Street Journal reports that more than a dozen unemployed professionals in Copenhagen, Denmark, are experimenting with a new way to catch the eye of employers: putting themselves on display in storefront windows.
The unconventional campaign is sponsored by Reputation, a Danish marketing firm, which hopes job-seekers will be able to promote "themselves in a brand new way," according to the company's website.
(Scroll down to see an image of one of the unemployed window-sitters)
The job seekers, who previously worked in industries including law and political science, decided to take part in Reputation's campaign after simply handing out resumes didn't work. You can read the WSJ story to find out what the window-sitters thought of the experience.
Despite this seemingly desperate ploy to find work, Denmark has remained relatively shielded from the unemployment crisis in Europe. While Denmark's jobless rate stood at 7.2 percent in March, the eurozone's hit a record high of 12.1 percent, according to the U.S. Bureau Of Labor Statistics. In Greece, unemployment ran as high as 27.2 percent, the BBC reports.
Meanwhile in the U.S., where unemployment remains stubbornly stuck above 7 percent, job seekers have pulled similarly creative stunts while on the hunt. Earlier this year, web product manager Philippe Dubost turned his resume into an Amazon product page and became an instant viral hit on the Internet in the process.
What is the craziest thing you have ever done to get a job? Email us at business-tips@huffingtonpost.com
Here is a photo of one of the Danish job seekers: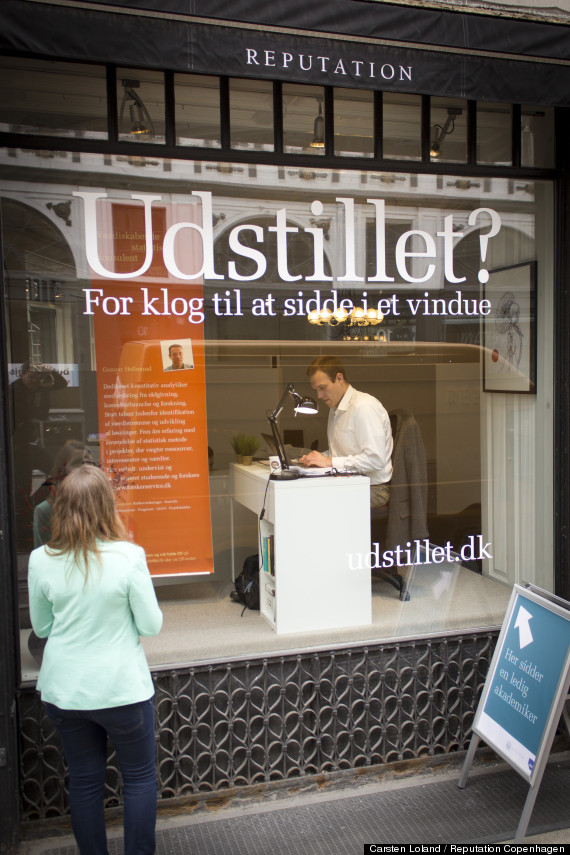 BEFORE YOU GO
PHOTO GALLERY
10 Most Stressful Jobs 2012