Hoda Kotb seemed equal parts shocked, pleased and downright mortified on Thursday when Maxim editor-in-chief Dan Bova revealed that the "Today" co-host made the magazine's annual Hot 100 List.
Bova appeared on the show to announce that Miley Cyrus had topped the list and other notable individuals were included in the issue. Gifford, who was in on the reveal, said that she was "surprised but delighted" by another person on the list. A photo of Kotb appeared on screen wearing what looked like an ill-advised purple leather dress. "You're number 79—not in that dress—but in everything else!" Gifford announced.
A dapper-looking gentleman greeted Kotb with a sash, a bottle of champagne and a bouquet of flowers. "Is this a joke?" Kotb shrieked as Bova placed a sash over her head. "Oh my god! I've never had a sash!"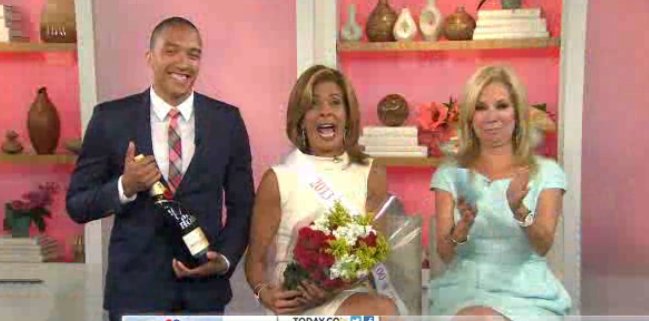 "Hoda, you're beautiful, you're hilarious and we love you," Bova said, on behalf of the world.
As for Gifford, Bova started to address her absence on the list but was cut off. "Oh, shut up!" Gifford yelled as she hugged Kotb.
BEFORE YOU GO
PHOTO GALLERY
Kathie Lee And Hoda Style Evolution