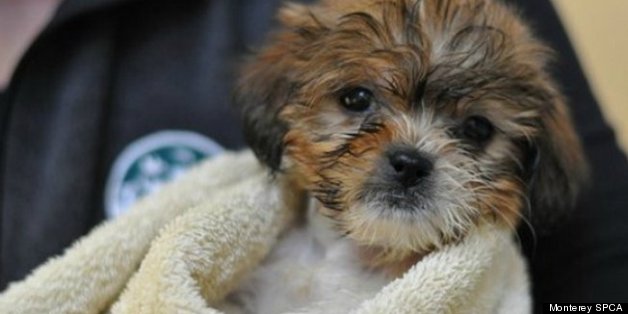 This article comes to us courtesy of SF Weekly.
Monterey police have tracked down the woman who they say was hoarding 50-plus animals in her house -- and car.
Police have arrested 59-year-old Ilagene "Jeanie" Quaglia who reportedly lived in the urine-soaked home at 1290 First Street where the animals were found living in three feet of garbage.
Quaglia was arrested at her workplace today after police secured a warrant. She was booked into the Monterey City Jail and will be transported to County Jail where she will be held in lieu of a $10,000 bail, according to the Monterey County SPCA.
On April 27, SPCA officers were called out to the home at about 1 a.m. where they discovered 48 animals -- dogs, puppies, and cats. The pets were suffering from a slew of health problems, including flea infestations, eye infections, painful dental infections, and skin infections. Many of the dogs were covered in painful mats, urine stains, and fecal matter. Most of the rescued animals were emaciated and hungry.
After SPCA staff rescued the animals and placed them into protective care at the shelter, they discovered even more pets, including this kitten who was found locked in the trunk of Quaglia's car when she was arrested today.
If you want to help these adorable, sad animals, or maybe take one home with you to show them what real love is like, contact the SPCA. You can also donate to help out other rescues or buy them a kitty camper or fleece bed from the SPCA registry.
Whoof. Meow.
For more San Francisco politics and beyond, follow The Snitch on Twitter at @TheSnitchSF and @SFWeekly.
Lots of animals in the Bay Area need loving homes like yours! Check out some animals up for adoption at Furry Friends Rescue in the slideshow below: