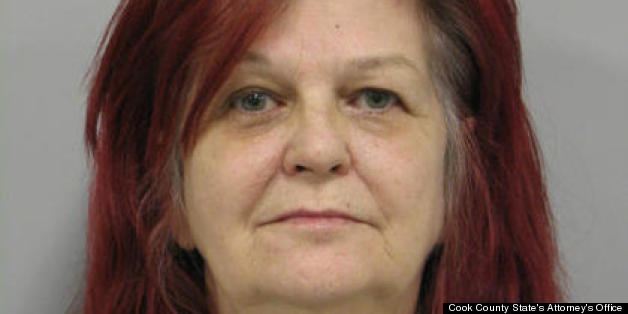 More than 34 years after gunmen burst into the affluent suburban Chicago home of Carl Gaimari and shot him dead, his wife Jacquelyn Greco has been charged with his murder.
Greco, 66, had been living in Crystal Falls, Mich. when she was charged with first degree murder for scheming to have her then husband, 34-year-old Carl Gaimari, murdered in their home, according to a statement from the Cook County State's Attorney's office.
Greco was arrested after police in suburban Inverness and prosecutors from the state's attorney's Cold Case Unit recorded a February phone call between Greco and an acquaintance, the Daily Herald reports. During the call, prosecutors say Greco revealed she had planned to kill Gaimari.
Greco allegedly made threatening remarks to another witness in 1996 telling the woman to "stay out of my business or I'll have you killed like my husband."
Prosecutors painted a picture of Greco as a greedy woman in a troubled marriage to the wealthy Chicago Board of Trade broker.
Greco allegedly told her lover at the time — a Chicago police detective — she wanted to off her husband so she could collect on his estimated half-million dollar estate, the Sun-Times reports.
On April 30, 1979, two unidentified men came to the home of Gaimari and Greco in what prosecutors allege was a pre-planned home invasion staged by Greco. In the late afternoon, the men announced the robbery and directed Greco and three of the couple's four children into a room where they were bound and locked in a bedroom closet, snatching two of Gaimari's handguns from a closet along the way.
Gaimari was killed in the family's basement about an hour later when he came home. The couple's teenaged daughter discovered her father's body, prosecutors say.
Gaimari's family said Greco quickly dispensed with all of her dead husband's personal belongings, severed ties with the family and moved her lover moved into the Inverness home days after Gaimari's murder, according to prosecutors. Greco and the man were married four months later, the Tribune reports.
The Sun-Times reports Greco's former lover-turned-second husband wasn't charged, though prosecutors say Greco implicated him in the killing during her court hearing. The man, a former Chicago cop who is now 73 and in failing health, was not named since he has not been charged.
Investigators are still trying to positively identify the two gunmen.
After being extradited from Michigan to Illinois, Greco was held without bond. If convicted, she faces up to 40 years in prison and will return to court May 29.
BEFORE YOU GO
***
PHOTO GALLERY
10 Major Crimes That Shocked America (SLIDESHOW)