Jeff Koons and his glossy, high-priced artworks are taking over the Gagosian Gallery's Chelsea location this week. From boldly colored balloon creatures to risque images of scantily clad women, the neo-pop survey reflects the standard Koonsian equation for an art exhibit -- equal bits childhood imaginings and adult fantasies.
Koon's recent descension into the Manhattan gallery world has sparked renewed discussion on his status as one of the most successful American contemporary artists to date. Just last year his shiny "Tulips" sculpture sold for just over $33 million at Christies, and 2013 will see not one, but two Koons shows during the annual Frieze Art Fair weekend in New York City. (In addition to Gagosian, he's also showing at David Zwirner's gallery.)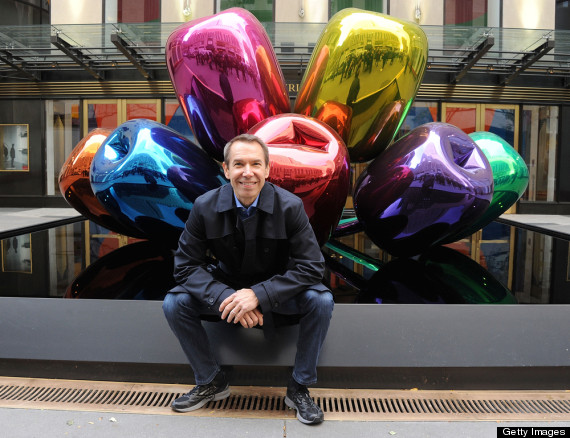 Yet the artist continues to elicit criticism for his commercial kitsch and factory mentality toward artistic output. Carl Swanson at New York Magazine took up the issue in a recent article, writing, "Koons has made his name manufacturing toys for rich old boys -- exacting pagan monuments to mass-culture triviality." He continues, "Much has always been made of the fact that Koons is in league with the plutocrats and once worked on Wall Street, selling commodities."
Jonathan Jones of The Guardian is a bit more sympathetic to Koons' cause:
"What he does, of course, is to shock the tasteful and offend cultural hierarchies by mixing high and low, art and money, art and sex, in sculptures and paintings that are at once offensively 'slick' and bizarrely brilliant."
Koons' Gagosian exhibit toys with classical themes in his "Antiquities" series, consisting of collaged paintings of scribbled-over ancient nudes. Lest we forget what drives him, however, he then asserts his love for all things inflatable in works like "Hulk Elvis" and various new balloon animal sculptures. It's no wonder Stephen Colbert referred to the artist as "The world's most expensive birthday clown" on his show last year. But maybe we're just missing the depth in his work; right now, all we see is surface, surface, surface.
Scroll through the images below for a preview of the work on view and let us know your interpretation of the art giant in the comments.
PHOTO GALLERY
Jeff Koons: New Paintings And Sculpture
'Jeff Koons: New Painting And Sculpture' will be on view at Gagosian Gallery from May 9 - June 29, 2013.
BEFORE YOU GO