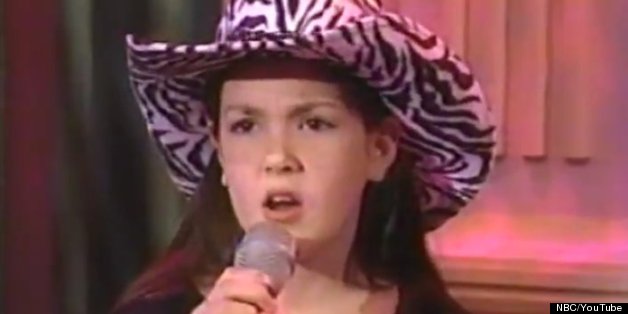 Kree Harrison may be vying to win "American Idol," but the Fox reality competition series is hardly the 22-year-old Texas native's first time at the rodeo.
At the age of eight, Harrison was chosen to perform on "The Rosie O'Donnell Show" and Kree impressed the talk show host with her voice and her manners, responding to all her questions with "Yes ma'am." Kree appeared as a guest on the show numerous times by the time she was 12.
During her first apperance, Kree donned a zebra-printed cowboy hat and sang Martina McBride's "A Broken Wing." She adorably told O'Donnell, "I hope to be the youngest country music singer and it'd be such an honor to sing at the Grand Ole Opry."
Kree also appeared in an episode with Joanna "JoJo" Levesque, who became a teen pop sensation with her hit "Leave (Get Out)." Kree sang "Unchained Melody" and, afterwards, she revealed that she got a call from Lyric Street Records. "I tried out for 'em and they loved me so I'm gonna move to Nashville," Kree said, announcing that she got a record deal.
In one of her final appearances on the show, Kree followed O'Donnell favorite Tom Cruise in the guest chair and talked about her track on the Christmas album "No Wrapping Required." "It was the best," she told O'Donnell, who did a duet of "Do You Hear What I Hear" with Kree. After the interview, the tweenaged Kree sang "Mary Did You Know."
Fans of Kree on "American Idol" have tweeted at O'Donnell throughout the show's current twelfth season and the former talk show host wished the now grown-up singer her best on the show.
@kreespykreem @kreeai12 - yup remember her - love her

— Rosie O'Donnell (@Rosie) April 29, 2013
@kreeperdreamer @kreeai12 - great I hope she wins

— Rosie O'Donnell (@Rosie) March 15, 2013
"American Idol" airs Wednesdays and Thursdays at 8 p.m. ET on Fox.
PHOTO GALLERY
"American Idol" Season 12
BEFORE YOU GO