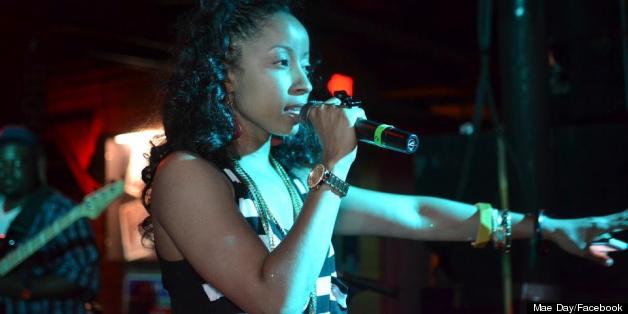 An all-star cast of local female hip-hop talent, including rapper Mae Day, will be converging at Detroit's Tangent Gallery next week to celebrate a local collective dedicated to raising the profile of women in the local scene. The show is a fourth anniversary bash for The Foundation of 5eGallery, an organization that hosts weekly gatherings at a local hip-hop community space to encourage and empower Detroit's female artists.
Day, a hip-hop lyricist who's adept at balancing hardcore rap with a soulful sound, will headline the event. She has a powerful voice that's been belting out rhymes for a nearly a decade at stages as varied as St. Andrew's Hall in Detroit, The Palms Hotel of Las Vegas and the South by Southwest Music Conference in Austin, Texas.
Beloved Detroit soul singer Monica Blaire will be there, as well, to reunite with her former group, the all-female indie/funk band Lola Valley. Local MC and activist Invincible will also join the festivities with a 90-minute set for their "Outerspaces" tour that will include Climbing PoeTree, a NYC spoken word group, and Las Krudas, a Cuban hip-hop duo.
An all-woman emcee collective made up of Foundation members, including Mahogany Jones, D.S.Sense, InsiteThe Riot, & NiqueLoveRhodes, will also perform. The night will also include beats from DJ XO, words from host Jessica Care Moore, dancing by B-Girl Mama of Hardcore Detroit and live painting by visual artists Nicole April Carter, HELP and Colibri Harris.
The Foundation holds regular Tuesday events at the 5eGallery, a hip-hop and creative space located at the border of Southwest Detroit and the city's Corktown neighborhood. They're all-inclusive, participatory evenings that lure attendees with live performance, graffiti art, breakdancing and more.
Piper Carter, a co-founder of The Foundation and the 5eGallery, told The Huffington Post that the women together develop skills and increase the visibility of women in the local hip-hop scene. She said their efforts have already met with some success.
"Now, most of our artists that work with us are out doing their own shows, becoming more established," she said. "For us, it's really important that we're creating nurturing spaces around creativity and women being able to respect themselves."
The 5eGallery will be moving to a new location near Wayne State University, the Cass Corridor Commons, in June. They recently received a $25,000 grant from the tech company Cognizant to build a sonic maker space at the site, according to Carter. The Foundation will also be relocating, starting on May 21, to a space called the Untitled Bottega at 314 E Baltimore St. in Detroit's North End neighborhood.
The Foundation 4th Anniversary Show takes place on May 14 from 7 p.m. to 2 a.m. at Detroit's Tangent Gallery. See website for details.
BEFORE YOU GO
PHOTO GALLERY
J Dilla And His Influence On Hip Hop