Artist Lauren Dicioccio uses a needle and thread to memorialize news articles, perserving the black and white images of The New York Times via multi-colored stitches. She embroiders snapshots of Hillary Clinton and Lady Gaga in her series "sewnnews" -- a palindrome paying tribute to the familiar touch and smell of the printed page.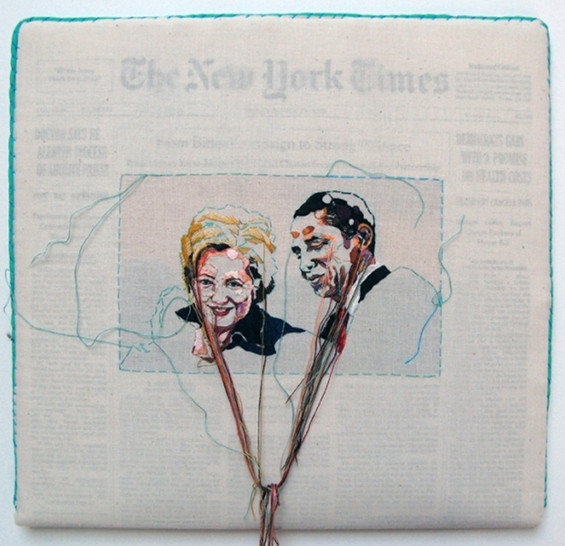 "I wanted to make work that celebrated the newspaper as an object and a physical presence in our lives that perhaps would not be around much longer," Dicioccio wrote in an email to The Huffington Post. "I felt that using materials and a method derived from craft was the most appropriate medium -- hand-embroidery on cloth is so evocative of the human spirit, it represents time and care and tactility in a special way that suited perfectly my feelings about the newspaper."
Scroll through the images of Dicioccio's work below and let us know what you think of her textile creations. Her works are currently on view in a group show at the San Francisco International Airport Museum titled "The Art of Recology: The Artist in Residence Program 1990-2013" and will be on display at the artMRKT Contemporary Art Fair at the Fort Mason Center in San Francisco from May 16-19, 2013 under Jack Fischer Gallery.
PHOTO GALLERY
Lauren DiCioccio's "sewnnews"