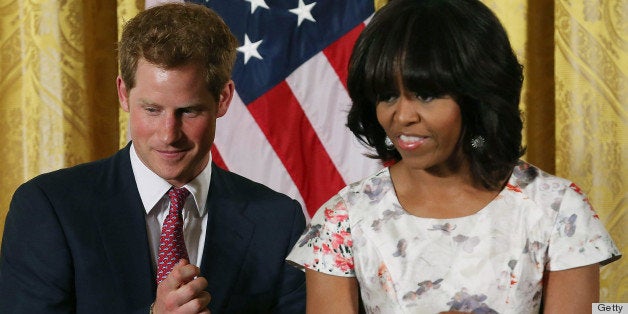 In case you've been under a Twitter-less rock today: Prince Harry's visiting Capitol Hill.
D.C.'s female set was on high alert, turning up with their iPhones handy to snap pictures of the eligible royal. But leave it to Michelle Obama to outshine all of the young ladies and capture Harry's attention -- that's right, our very own FLOTUS got to hang with the dreamy redhead!
Clad in a floral Prabal Gurung dress (that she's worn before, natch), Mrs. O hosted the prince during a Mother's Day tea party at the White House, where she, Harry and Jill Biden helped military kids create cards for their moms -- or, as Harry would say, "mums."
The 28-year-old Brit is known to be quite the charmer, so we're already imagining him and Michelle getting on well (just think about their sassy banter). Check out some snaps of the meeting below and tell us: What do you think they talked about?
FLOTUS is used to hanging with royals:
PHOTO GALLERY
The Obamas Meet The British Royals!