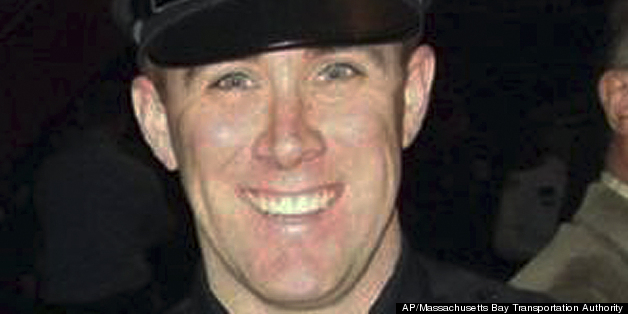 The Boston transit officer wounded during a shootout with the Boston bombing suspects may have been injured by friendly fire.
Richard Donohue, an MBTA Transit Police officer, was shot and nearly killed during the hail of bullets between police and the suspects on April 19 in Watertown. Witnesses tell the Boston Globe this week that it was a fellow officer who accidentally shot him. Earlier reports stated that it was one of the suspects who shot Donohue.
During the early-morning gunfight, police exchanged up to 300 rounds with Tamerlan Tsarnaev, the Boston Marathon bombing suspect who was killed. Six law enforcement agencies assisted in trying to bring down an SUV that suspect Dzhokhar Tsarnaev was driving at the scene, according to The Atlantic Wire.
"A black SUV appeared, and rapid gun fire was focused on the vehicle," witness Jane Dyson, who lives near where the shooting occurred, told the Globe. "It appeared to me that [Donohue] at the corner [of the street] fell to the ground and had probably been hit in the gunfire."
The Globe also reported that the Tsarnaev brothers weren't armed at the time.
Donohue lost nearly all his blood and his heart stopped from a single gunshot wound that severed three major blood vessels in his right thigh. He went into cardiac arrest but was later upgraded to stable condition at a Cambridge hospital.
Meanwhile, the Los Angeles Times writes that an intelligence report issued five days before the attacks identified the Boston Marathon finish line as an "area of increased vulnerability." The report, written by the Boston Regional Intelligence Center, also warned that extremists could use "small scale bombings" to attack spectators and runners.
BEFORE YOU GO
PHOTO GALLERY
Manhunt For Suspect #2