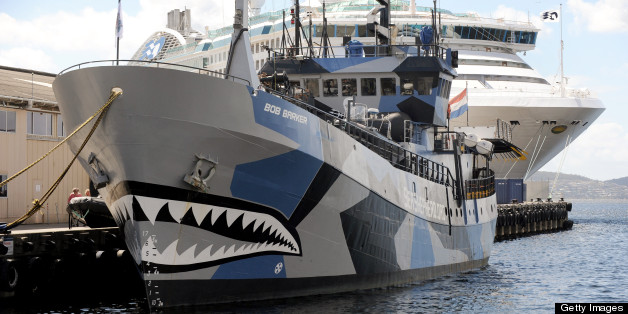 Militant anti-whaling group Sea Shepherd Australia urged supporters to dig deep Thursday as it launched its 10th harassment campaign against the Japanese fleet, saying US legal action was hitting fundraising.
Sea Shepherd Australia director Bob Brown said the group needed US$4 million to run its annual Southern Ocean pursuit of the Japanese at the end of this year, with lawsuits filed in the United States slowing donations.
"Japan is doing everything it can to put the US operation under, effectively, complete diversion by legal action," Brown told reporters.
"An operation that in past years was funded by the US with its big philanthropic organisations has to be funded from outside the US now," he added.
"That responsibility is on us. We depend upon the largesse of a global public that supports what we're doing."
Sea Shepherd was forced to shift the headquarters of its whaling campaign to Australia from the US earlier this year due to a raft of legal issues centred on fugitive founder Paul Watson and complaints from Japan.
A US judge in February denounced the group as "pirates", clearing the way for the Japanese to pursue an injunction against their activities in the Southern Ocean, which were described as "violent acts for private ends".
Canadian Watson is wanted by Interpol after skipping bail last July in Germany, where he was arrested on Costa Rican charges relating to a high-seas confrontation over shark finning in 2002.
He handed over operational responsibility for Sea Shepherd's flagship anti-whaling mission to Brown, former leader of Australia's Greens party.
Brown said the 10th annual hunt, codenamed "Operation Relentless", required $4 million to get off the ground, with repairs worth hundreds of thousands of dollars needed to Sea Shepherd's fleet after Antarctic collisions last season.
Brutal confrontations with the conservationists saw Japan's ships return home with a record low catch of just 103 minke whales -- less than half the previous year's tally -- and no fin whales.
Japan's Fisheries Minister Yoshimasa Hayashi blamed "unforgivable sabotage" by the activist group for the meagre haul, netted under a scientific research loophole in the international moratorium on whaling.
Clarification: This post has been updated to clarify that it is Sea Shepherd Australia that is soliciting donations, and not the organization's U.S. arm.
BEFORE YOU GO
PHOTO GALLERY
Whales In Action