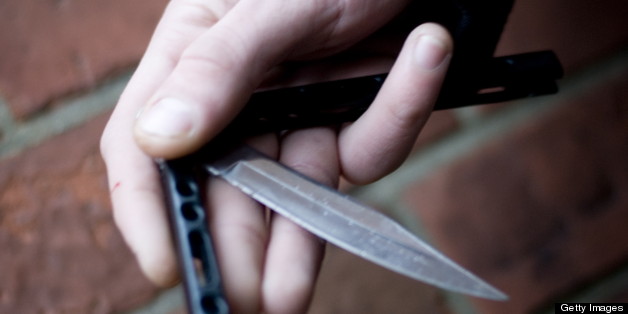 A 21-year-old suspected of stabbing a wheelchair-bound homeless woman to death gave police a disturbing confession.
"I like knives," Shawn Lopez told detectives. "Just because it takes a real crazy, sadistic mother f***er to walk up to somebody and just stab them. Because you're up close and personal. And you know that you're the last face that person is ever going to see, in their pathetic little life."
The victim has been identified as Francine Reade, 67. According to a report by the Aurora Sentinel, Lopez confessed to killing Reade moments after meeting her because he wanted to know how it felt.
In an arrest affidavit, Lopez said he wheeled Reade behind a grocery store and told her, "don't worry about it" when she asked him where they were going. Once they were behind the store, Lopez told detectives he decided to kill Reade. Lopez said he then stabbed her in the neck and stole her loose change.
Reade was found on April 25 behind 15075 E. Colfax Avenue in Aurora.
Lopez and one of his roommates, 20-year-old Michael Synder, have both been charged in connection with the killing.
According to a news release from the Adams and Broomfield County District Attorney, Lopez has been charged with first-degree murder, two counts of first-degree felony murder, second-degree kidnapping, aggravated robbery and aggravated robbery of an at-risk adult. Investigators say that Synder helped bleach the switchblade that was allegedly used to kill Reade and charged Synder as an accessory to murder.
Lopez is being held in Adams County Jail without bond. Synder is due in court on May 23.
BEFORE YOU GO
PHOTO GALLERY
10 Major Crimes That Shocked America (SLIDESHOW)