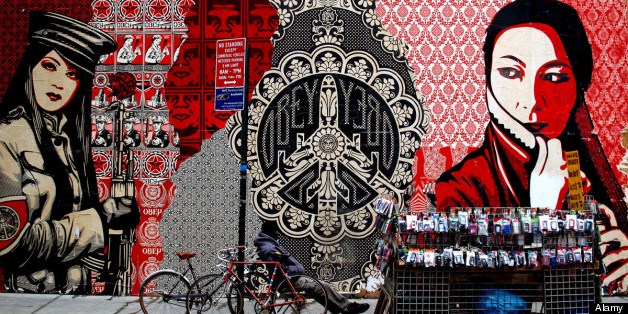 A spray-painted image or unnamed sculpture are the modern street artist's ghostly footprints on the world at large.
We can thank figures like the elusive graffiti king Banksy for the mysterious aura of the contemporary urban artist. When the Bristol-born street artist's Poundland painting was chopped from the wall to be sold at auction, UK locals were outraged.
But just as London claims Banksy as their clandestine hero, cities across the world have trumpeted their own national street artists. Bologna-based artist Blu is the face of Italy's street art, and in Buenos Aires, where street art is legal with permission, Argentine graffiti master Martin Ron reigns supreme.
This summer, instead of staying inside a museum all day, why not take to the streets to see art? In the slideshow below, we've compiled the best cities for street art around the world. From Los Angeles' iconic Shepard Fairey works to Icy and Sot in Iran, we take you across the globe on an international tour of truly unique graffiti.
BEFORE YOU GO
PHOTO GALLERY
Best Cities For Street Art