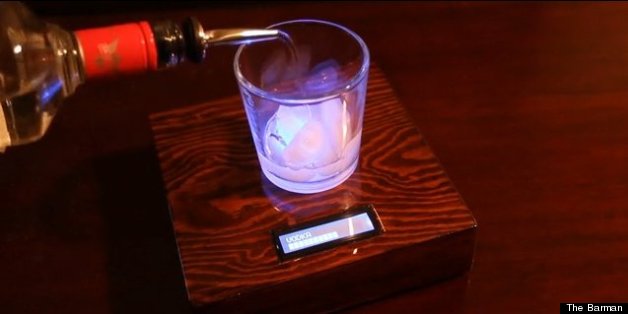 There isn't much on this earth we love more than a perfectly balanced cocktail. We love drinking them, we love making them, we love talking about them. But occasionally, even we get tired of digging through recipe books to find the perfect one, and most of us have trouble remembering the proper ratios in our heads without looking at a recipe.
The Barman to the rescue. This Kickstarter project (which has already been funded even though it still has a few weeks left -- congrats!) is a wireless, Bluetooth-enabled bar tool that stores drink recipes in an iPhone app. When you choose a recipe, the app sends the recipe to The Barman itself. There is a tiny LED light embedded in the base that lights your mixing glass up bright blue -- just pour in the listed ingredient until the glass turns red. Then the next ingredient, etc. Is it magic? Well, no, it's a scale. But it's still a pretty ingenious use for a scale. Check it out!
Probably our favorite thing about this tool is its precision. Because the ingredients are measured by weight, you know you're getting exactly the right amount in the glass. Although, we'll admit, it doesn't account for what happens when your pouring hand gets a little heavy.
As you'd expect, The Barman app also includes the ability to share your newly made/invented cocktail recipes via your social networks. There are still a few Kickstarter backer positions open, starting at $49. The team says they expect the prototype units to ship sometime around September 2013.
[via Cool Material]
Want to read more from HuffPost Taste? Follow us on Twitter, Facebook, Pinterest and Tumblr.
BEFORE YOU GO
PHOTO GALLERY
Futuristic Kitchen Gadgets