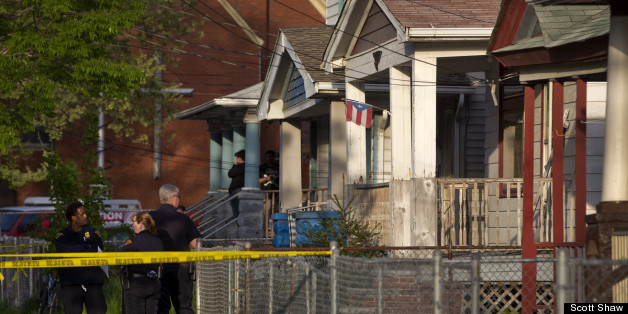 As allegations surfaced this week that three missing women had been held against their will for 10 years in the Cleveland home of Ariel Castro, some very perceptive readers have pointed out a strange detail in photographs of Castro's house: A Puerto Rican flag that was flying from Castro's front porch on Monday appeared later to have been replaced with an American flag.
Was the Puerto Rican flag swapped for an American one?
The Huffington Post called the FBI's Cleveland office, and a representative flatly denied it, saying the crime scene had been under 24-hour lockdown. A representative from the Cleveland Police Department told HuffPost the department did not know who removed the flag.
However, two of the photographers responsible for some of the photos in question -- the Cleveland Plain Dealer's Scott Shaw and Getty Images' Bill Pugliano -- told HuffPost over the phone Thursday that they thought there might actually be two flags flying side by side, very close together.
Closer inspection of some of the pictures, like this one, appears to substantiate those statements. (See below for more photos of the two flags.)
However, photos from later in the week show no flag at all. Did someone remove the flags, and if so, why?
Nevertheless, members of Cleveland's Puerto Rican community have expressed unease that a Puerto Rican flag was flying from Castro's porch, some of them going so far as to say that they wanted to remove it.
Cleveland Police Chief Hector Pesquera, who is Puerto Rican, told WKAQ he was so upset by the discovery of the women in Castro's home that he "would have personally removed" the island's flag from the porch.
Arielle Rios, a Puerto Rican from Cleveland, wrote for ABC News: "I could not help but notice the swaying Puerto Rican flag on the porch pillar. My father Manuel's initial reaction was that this would bring a lot of shame to the community."
We will update this post if new information becomes available. Until then, let us know what you think by leaving a comment below.
PHOTOS:
PHOTO GALLERY
Castro's Puerto Rican Flag
BEFORE YOU GO
PHOTO GALLERY
3 Missing Cleveland Women Found