Anyone who has been caught in a rip current knows how scary it can be, but seen from a unique perspective, (not to mention a safe distance) this one is just awesome.
Paraglider Scott Patman snapped this photo of a big rip as it sucked sediment into an epic whorl off the coast of Western Australia near Perth. Dr. Rob Brander, coastal geomorphologist and senior lecturer at Australia's University of New South Wales, posted the photo on his Facebook page, "Dr. Rip's Science of the Surf" on Friday morning.
Although the photo is impressive, whirlpools tend to "look worse than they are," as Brander explained on his page. "When you get [a] big, clean swell hitting the beach at a strong angle, you get strong longshore currents that can peel offshore forming eddies," he also wrote.
(Story continues below)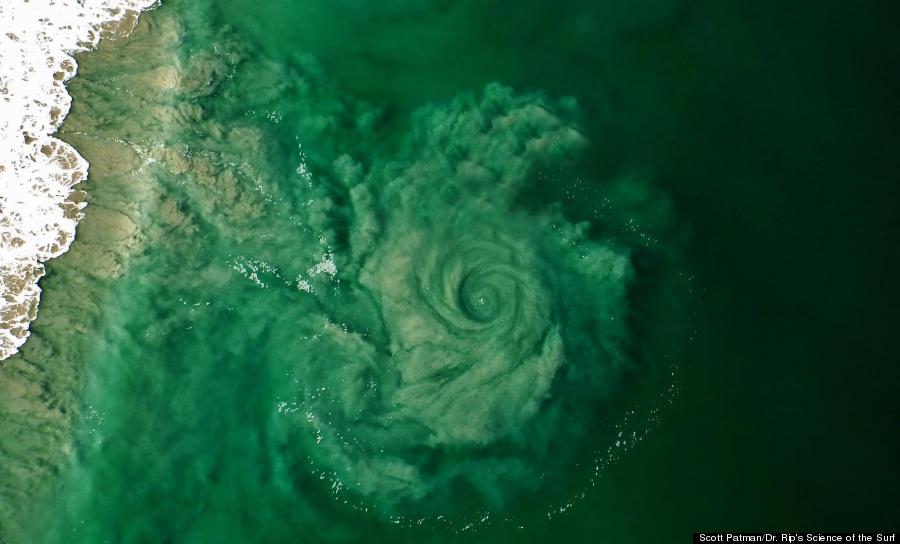 Update: May 14, 9:30 a.m. -- In an email to The Huffington Post, Dr. Brander explained that this kind of rip current is rather rare.
"These types of rips are very uncommon. They look amazing, but they are totally atypical... Most rip currents do not look anything like this from the air. Most look like dark gaps (deeper channels) between shallow sandbars," Brander wrote. He further explained that despite its menacing appearance, it's doubtful such a rip would pose much of a threat since "only surfers would be in the water" on days they might occur.
But for an average swimmer, getting caught in a rip current can be quite dangerous, since they can flow outward to sea faster than people can swim, according to an educational video by the University of New South Wales.
"Sometimes, they [rip currents] can flow even faster than Olympic swimmers," Dr. Brander notes in the video (below).
The United States Lifesaving Association, a nonprofit organization of lifeguards and open water rescuers, estimates that more than 100 people die in the U.S. from rip currents every year, and that they account for about 80 percent of rescues performed by surf beach lifeguards.
Science of the Surf (SOS) is an Australian public education program developed by Brander that aims to reduce the number of drowning and injures at the beach.
WATCH: How to avoid and survive rip currents
BEFORE YOU GO
PHOTO GALLERY
The Earth From Above