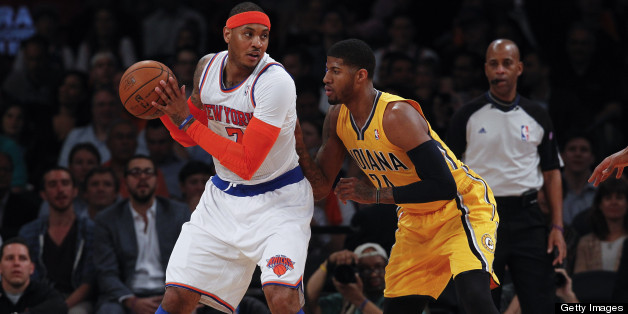 The New York Knicks may have improved its defense, but this team secured the No. 2 seed in the Eastern Conference because of a dominant, multidimensional Carmelo Anthony. Scoring has always come easily to Anthony, although he has seemed to struggle, at least temporarily, during the playoffs: Up until Game 2 against Indiana, the NBA's scoring champ had yet to shoot 50 percent in a playoff game. But even after his 13-26, 32-point outing Tuesday night, Anthony is still shooting just 39 percent from the floor and 28 percent from 3 in the postseason.
Having evened up the series, where does this leave the Knicks? Was Game 1 or Game 2 the "real" Knicks? Something is wrong.
To be in a shooting slump is one thing, but Anthony is struggling merely to get a clean look. Anthony is usually adept at finding gaps or, when no gaps are available, at creating his own space. Having two premier isolation artists in Anthony and J.R. Smith, the NBA's Sixth Man of the Year, has other benefits, but not against as elite a defensive unit as Indiana.
In the series thus far, the Pacers' sheer size and bulk in the paint have taken the spotlight, alternately by Roy Hibbert's elite shot-blocking presence, by the bruising tandem of David West and Tyler Hansbrough and by top perimeter defender Paul George. Although Indiana finished second in the league in points allowed, it also finished first in field goal percentage against and first in field goal percentage defending the rim, per Hoopdata.
What's troubling for Anthony is that the Pacers clamp down and play on a string so well defensively that they are seldom vulnerable. Smith has been unable to create quality offense because both George and second-year man Lance Stephenson are so tough guarding the bounce. Stephenson in particular is making life miserable for Smith, who has predictably reverted back to selfish, one-on-one basketball and finds himself mired in a 7-30 slump at this point in the series.
Even with Smith's struggles, the Knicks present a significant challenge for defenses, both in the half-court and in transition, because of their proficiency from 3, as they demonstrated in Game 2. Yet under 50 percent of the Knicks' made baskets have come from assists, per ESPN.com, which ranks them dead last among teams in the postseason. Just as significantly, the Pacers are also tops in the league in 3-point defense and make it a priority to clog passing lanes and prevent drive-and-kick opportunities.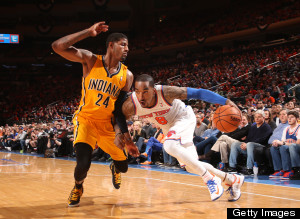 J.R. Smith, the NBA's Sixth Man of the Year, is shooting just 7-30 in the Indiana series. (Getty Images)
Anthony is the best player in the series, and he proved it in Game 2 because he didn't force shots, became a willing passer and was more decisive as a scorer working away from the help defense. Indiana will test his mettle though, especially on its home floor, and Anthony tends to force when frustrated.
The bottom line for the Knicks is that few teams adhere more to the recent trend of casting triples than they do: No NBA team has shot -- and made -- more 3-pointers this season. But New York can also revert to a stagnant, predictable offense with no rhythm and little productivity -- and Indiana feasted on them when that happend in Game 1.
This league is often called "make-or-miss," but at least in this series, that's not the case. After the Knicks' convincing 105-79 win Tuesday night, center Tyson Chandler said of Anthony's performance, "I thought he did an excellent job of swinging the ball."
Email me at jordan.schultz@huffingtonpost.com or ask me questions about anything sports-related at @Schultz_Report.
BEFORE YOU GO