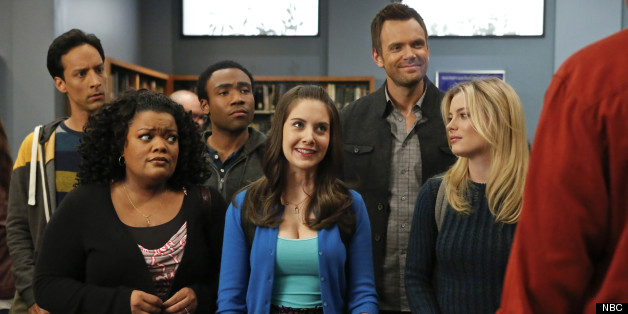 "Community" has surprisingly been renewed. NBC has ordered a Season 5 of the drama-plagued, but beloved cult-hit comedy.
"Community's" renewal is some much-needed good news for the show, which hasn't had it easy. Always on the bubble, "Community" has been yanked off the schedule, benched more than once and suffered from some very public feuds.
"Community" Season 5 will be 13 episodes.
At the end of Season 3, headlines about beef between show creator Dan Harmon and star Chevy Chase surfaced. Then, Dan Harmon left the show. Season 4, which was supposed to start in October 2012, was held until February 2013. While the show was in production, Chevy Chase left.
The season finale of "Community" aired on Thursday, May 9 and matched its highest rating in nine weeks with a 1.3 rating among adults 18-49 and 3.14 million total viewers.
Check out the "Community" cast's reaction to the renewal via Twitter below:
And an awesome Vine from Gillian Jacobs:
— Gillian Jacobs (@GillianJacobs) May 11, 2013
Though "Community" was renewed, other shows weren't so lucky. "Smash," "1600 Penn," "Animal Practice," "Deception," "Do No Harm," "Go On," "Guys With Kids," "Up All Night," "Whitney" and "The New Normal" were canceled.
For more on what you could see along with "Community" on NBC and the other networks next season, click on the links below.
Pilot Pickups For 2013-2014:
NBC's new dramas and new comedies
Fox's new dramas and new comedies
CBS' new dramas and new comedies
The CW's new dramas
ABC's new dramas and new comedies
Are you surprised "Community" was renewed? Will you be watching Season 5? Sound off in the comments!
PHOTO GALLERY
2013 Renewal Index: Canceled, Renewed & On The Bubble Shows
BEFORE YOU GO