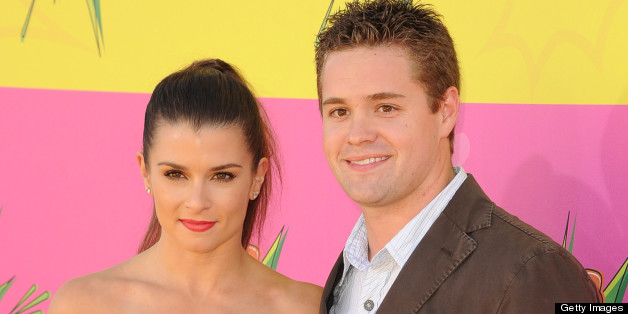 NASCAR driver Danica Patrick hasn't been shy about publicly flaunting her first post-split relationship with fellow driver Ricky Stenhouse Jr.
And Stenhouse will be the first to admit just how comfortable he and Patrick are with having their relationship in the spotlight.
"I feel good about where we are, she's racing and I'm racing," he told reporters Thursday at Charlotte Motor Speedway (via AOL Sporting News). "[The media] have all been great to us. It hasn't been uncomfortable at any moment. We're just regular people just having a relationship."
Though the couple has been under the microscope as a pair, there's no doubt that Patrick is the more high-profile of the two -- something that Stenhouse says he has no problem with.
"People notice her," he said with a laugh. "It's still funny, people are telling her, 'Hey, good luck this weekend.' And I'm thinking, 'Thanks. You're not going to tell me good luck?' … All in all, it's been really fun."
Patrick and Stenhouse confirmed rumors of their romance to the Associated Press back in February -- less than a month after she officially filed for divorce from husband of seven years, Paul Hospenthal. She first announced her plans to divorce Hospenthal -- who is 17 years her senior -- in November 2012 on her Facebook page. They finalized their split in April 2013.
Click through the slideshow below for more on Patrick's split and four other NASCAR stars who shocked fans with their divorce announcements.
PHOTO GALLERY
Famous NASCAR Divorces
Keep in touch! Check out HuffPost Divorce on Facebook and Twitter.
BEFORE YOU GO