A forgotten painting discovered in a Pittsburgh Public School building sold at Sotheby's this week for a whopping $750,000.
The vibrant 1930s artwork, created by Post-Impressionist master Henri Le Sidaner, had been hanging on the walls of various school offices unnoticed for the past 80 years, reports WTAE News. School administrator Angela Abadilla decided to research the colorful painting's provenance and discovered that the objet d'art was in fact a Sidaner original, potentially worth around half a million dollars.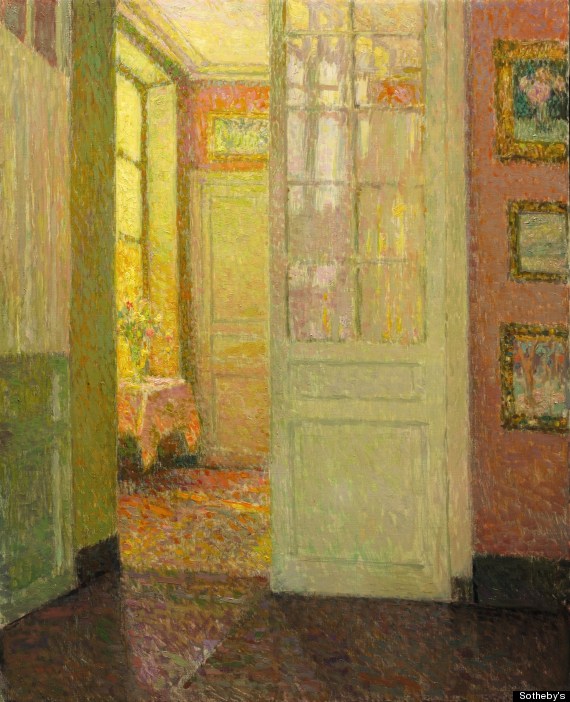 Property from the Pittsburgh Public Schools Friends of Art Collection, Henri Le Sidaner, "Intérieur, Lumière de la Fenêtre," Oil on canvas, 39 1/2 by 32 in. (100.3 by 81.3 cm). Painted in Versailles in 1931. Est. $350/450,000 - Sold for $905,000.
"Interior, Light from the Window" was donated to the Pittsburgh school system by a local group known as Friends of Art. According to the Pittsburgh Post-Gazette, the Sidaner had been donated sometime after the 1933 Carnegie Institute's International Exhibition of Paintings in Pittsburgh, and remained in the hands of the school system unbeknownst to Sidaner's estate.
"We didn't realize that his family did not know its location," Abadilla, senior program officer for arts education, explained to WTAE News. "For 80 years it's been with us but it's been 'missing' from the art world as far as being part of his collection."
The district opted to put their pricey painting up for auction to raise money for its arts education program. The proceeds from the Sotheby's sale, which far exceeded the $350,000-450,000 pre-sale estimate, will be used to maintain its existing arts collection, displayed in buildings across the Pittsburgh Public School system. Even better, Sotheby's did not charge the district to ship the work, insure it, or prepare it for the bidding block.
Another Sidaner work on sale at the recent Impressionist & Modern Art Day Sale was a landscape painting that went for $233,000. As you can imagine, the school system is ecstatic about their painting's hefty price tag. "We're all pleased it went as high as it did," Superintendent Linda Lane told WPXI News.
PHOTO GALLERY
Unexpected Art Finds