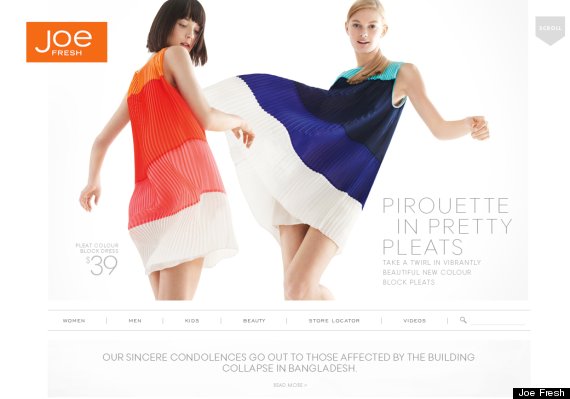 What's wrong with this picture? A new photo running on Canadian retailer Joe Fresh's website juxtaposes two models dancing in "Pretty Pleats" against a barely-noticeable message addressing the tragedy in Bangladesh. It reads:
OUR SINCERE CONDOLENCES GO OUT TO THOSE AFFECTED BY THE BUILDING COLLAPSE IN BANGLADESH.
The retailer is one of the few to admit to and publicly apologize for doing business with the supplier responsible for the collapse of the Rana Plaza factory in Bangladesh, which resulted in more than 1,000 deaths.
Joe Fresh did not immediately return The Huffington Post's request for comment.
As the Village Voice points out, the message sits right below an advertisement for a $39 dress, just one dollar more than the average worker at Rana Plaza made in a month. The Worker Rights Consortium estimates that the costs of upgrading Bangladesh factories could run as little as 10 cents per article of clothing.
Benetton, another retailer that admitted some of its clothes were made at the factory , similarly dedicated the bottom right corner of its homepage to the tragedy:

Meanwhile, retailer Primark, which also manufactured apparel at Rana Plaza, has posted updates on the collapse to its ethical trading page. Retailer Mango appears to have made no mention of its involvement in the tragedy on its website.
That attitude appears to echo that of the average consumer. Most Americans are more concerned with low prices for their clothes rather than the safety of the workers that make them, according to a recent poll by The Huffington Post/YouGov.
BEFORE YOU GO
PHOTO GALLERY
Trendy Brands With Sketchy Labor Histories