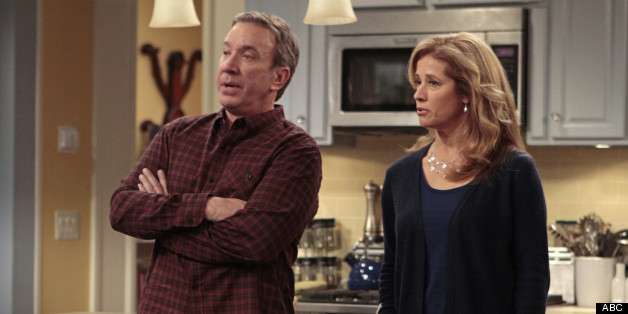 "Last Man Standing" has been renewed. ABC will bring the Tim Allen sitcom back for a third season.
Despite a shortened season and move to Friday nights, "Last Man Standing" held steady in the ratings. The Season 2 finale, which featured Allen reuniting with his "Home Improvement" co-star Jonathan Taylor Thomas, had 7.9 million viewers and a 1.6 rating in the 18-49 demographic. That's a solid number for a broadcast series on a weekday, let alone a Friday.
Paired with "Malibu Country," the comedy brought viewers back to a time when Friday night meant TGIF on ABC.
In addition to "Last Man Standing," ABC renewed "Castle," "Grey's Anatomy," "The Middle," "Modern Family," "Nashville," "Once Upon A Time," "Revenge," "Scandal" and "Suburgatory." ABC canceled an additional five series from the 2012-2013 season: "Body Of Proof," "Happy Endings," "How To Live With Your Parents," "Malibu Country" and "Red Widow," which join the previously canceled "666 Park Avenue," "Don't Trust The B---- In Apartment 23," "Last Resort," "Private Practice" and "Zero Hour." ABC has not confirmed the reported fates of "Family Tools" and "The Neighbors."
To fill in those timeslot holes, ABC picked up a number of comedies for the 2013-2014 season: "Super Fun Night" starring Rebel Wilson; ensemble "Mixology"; Malin Akerman's "Trophy Wife"; family comedy "The Goldbergs" and "Back in the Game" starring James Caan. On the drama side, in addition to "Marvel's Agents of S.H.I.E.L.D.," ABC picked up spinoff "Once Upon a Time in Wonderland"; drama "The Returned"; David Zabel's "Lucky 7" and "Betrayal"; the Christian Slater/Steve Zahn vehicle "Mind Games" and Sofia Vergara-produced "Killer Women."
Find out what the other networks picked up below.
Pilot Pickups For 2013-2014:
NBC's new dramas and new comedies
Fox's new dramas and new comedies
CBS' new dramas and new comedies
The CW's new dramas
PHOTO GALLERY
2013 Renewal Index: Canceled, Renewed & On The Bubble Shows
BEFORE YOU GO