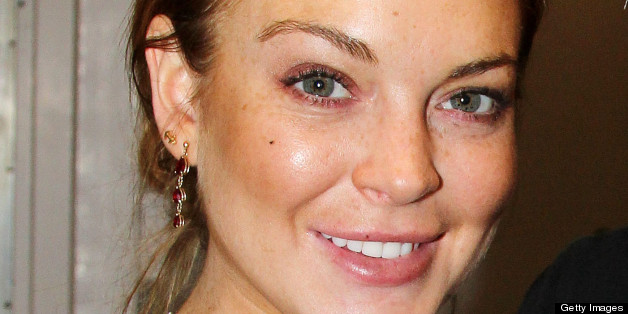 Lindsay Lohan is currently locked up at the Betty Ford Center in Rancho Mirage, Calif., where she's set to serve a 90-day rehab sentence. If all goes according to plan, LiLo won't be out and about until August.
Here's are some things that are expected to happen while LiLo's locked away:
LiLo will miss out on her own birthday celebrations: She'll turn 27 on July 2.
Lohan will also miss out on Independence Day celebrations on July 4.
Lohan will also miss out on the longest day of the year, set to happen on June 21. It'll also mark the official first day of summer.
Lohan, who made it a point to attend Coachella before rehab, will miss out on a few other music festivals: Governor's Ball is set to take place June 7-9 in New York; Bonnaroo is June 13-16 in Tennessee; Firefly is June 21-23 in Delaware; and Summerfest will rock on in two parts -- June 26-30 and July 2-7, in Wisconsin.
Lohan will miss the birth of some of the most high-profile celebrity babies: Kim Kardashian is reportedly due this summer, as are Kate Middleton, Channing Tatum's wife Jenna Dewan, Jessica Simpson and Busy Philipps.
A bunch of celebrities are rumored to tie the knot this summer, huge events LiLo might have to RSVP "No" to. Among them are Brad Pitt and Angelina Jolie's nuptials, and those of Jennifer Aniston and Justin Theroux, and Lady Gaga and Taylor Kinney.
Lohan will miss "The Bling Ring" movie premiere, Sofia Coppola's film based on the chain of robberies LiLo was the victim of five years ago. The movie, starring Emma Watson, will land in theaters June 14.
Lohan will miss out on the Cannes Film Festival (May 15-26), though "Scary Movie 5" probably would not have gotten her an invite anyway ...
Lohan will likely miss the 328th time Rihanna and Chris Brown get back together, then break up, then get back together again ... Likewise Miley Cyrus and Liam Hemsworth. To Love!
 Seeing as how she's bound by the strict rules of rehab, Lohan probably won't be on Twitter much and will miss the rest -- dare we say the pinnacle? -- of Amanda Bynes' downward spiral and many selfies.
BEFORE YOU GO
PHOTO GALLERY
Lindsay Lohan