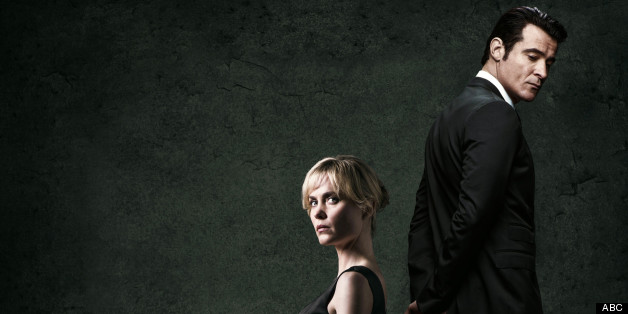 ABC has canceled its midseason drama "Red Widow" after airing the full first season of eight episodes.
The drama, based on a Dutch series called "Penoza," was executive produced by Melissa Rosenberg and starred Radha Mitchell as a suburban housewife who turns to the family's organized crime business after her husband is assassinated. She takes cues from her own family of known Russian gangsters in order to find her husband's killer and get revenge.
The series debuted in March to over 7 million viewers for the two-hour premiere, but ratings quickly dipped to the 4-5 million range so ABC's decision to cancel "Red Widow" hardly comes as surprise.
In addition to "Red Widow," ABC canceled five other series on Friday: "Body Of Proof," "Happy Endings," "How To Live With Your Parents" and "Malibu Country" join the previously canceled "666 Park Avenue," "Don't Trust The B---- In Apartment 23," "Last Resort," "Private Practice" and "Zero Hour." On a more positive note, the network renewed "Castle," "Grey's Anatomy," "Last Man Standing," "The Middle," "Modern Family," "Nashville," "Once Upon A Time," "Revenge," "Scandal" and "Suburgatory." ABC has not confirmed the reported fates of "Family Tools" and "The Neighbors."
ABC picked up a number of comedies for the 2013-2014 season: "Super Fun Night" starring Rebel Wilson; ensemble "Mixology"; Malin Akerman's "Trophy Wife"; family comedy "The Goldbergs" and "Back in the Game" starring James Caan. On the drama side, in addition to "Marvel's Agents of S.H.I.E.L.D.," ABC picked up spinoff "Once Upon a Time in Wonderland"; drama "The Returned"; David Zabel's "Lucky 7" and "Betrayal"; the Christian Slater/Steve Zahn vehicle "Mind Games" and Sofia Vergara-produced "Killer Women."
Check out the links below to find out what's coming to the other networks in the 2013-2014 TV season:
NBC's new dramas and new comedies
Fox's new dramas and new comedies
CBS' new dramas and new comedies
The CW's new dramas
PHOTO GALLERY
2013 Renewal Index: Canceled, Renewed & On The Bubble Shows
BEFORE YOU GO