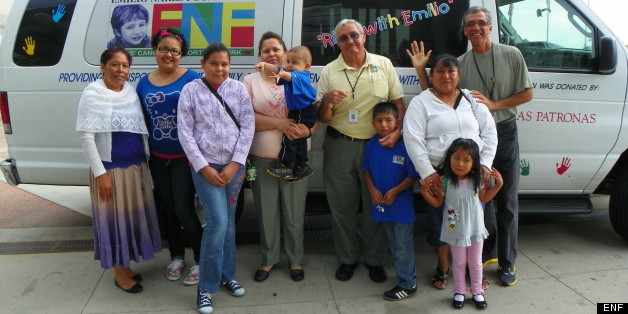 After losing his 5-year-old son to leukemia in 2000, Richard Nares wanted to do something to help the families that do not have the same level of support that his family did. So three years later, he founded the Emilio Nares Foundation (ENF), named after his son.
Helping low-income families in California, the San Diego-based organization may be best known for its "Ride With Emilio" program, in which the foundation helps transport children with cancer to their chemotherapy and doctor appointments. But what makes the small nonprofit stand out is its hands-on approach.
"It's a real calling just to know that you can help, and see these families get to their appointments," Nares told The Huffington Post, adding that he's usually "there at the hospital every day." (Except for this month, while Nares is running 700 miles from San Francisco to San Diego to fundraise for the organization.)
Earlier this month, Silvia Johnson, the single mother of a child with cancer who receives regular rides to the hospital, explained to CNN that ENF provides her family with eight to 10 rides per week, all on the foundation's own dime.
"I don't know what I would do without them," Johnson told CNN.
Johnson is like many other parents in the area, some of whom own just one car or do not have the means to transport their children to the hospital for weekly appointments. Funded primarily by private grants and donations, Nares estimates that ENF drives more than 40,000 miles a year, carpooling families to hospitals in the San Diego area.
But the door-to-door program is much more than a simple transportation service. ENF picks up multiple families on any given day, some of whom, Nares said, ENF has been driving for two or three years. No one is dropped off until all of the are children are finished with their appointments.
"These issues with transportation are just huge. We have adults in San Diego asking us for rides," Nares told HuffPost, adding that ENF serves only children with cancer.
Aside from the carpool service, which Nares said is unlike any other in the nation because of its personal service, ENF also helps patients by providing an information center, equipped with laptops and staff to help families find resources, and organizes other weekly programs such as knitting-cum-support groups and snack deliveries to hospital rooms.
Nares admits that, after losing his son, it's difficult to be around small children with cancer every day. "Sometimes I relive the stress I see on their faces," he said. But, he added, "We do it because we have compassion for these families."
BEFORE YOU GO
PHOTO GALLERY
Dads We Dig