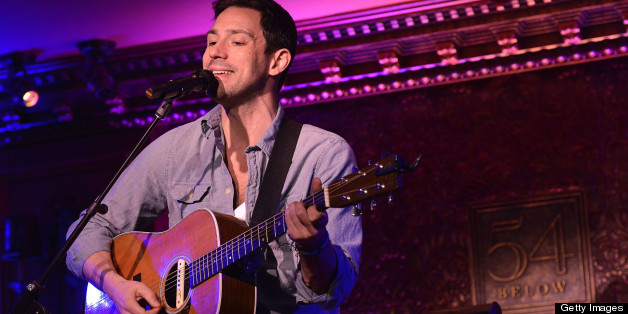 Tony-winning actor Steve Kazee found musical solace through the unlikeliest of experiences: a forced early departure from a hit Broadway show.
Despite plans of renewing his contract through the fall, Kazee was forced to leave the smash "Once" in February after sustaining a vocal injury. But the two months of doctor-mandated vocal rest that followed didn't silence the disheartened (and profusely apologetic) actor.
"The only thing I could do to keep my mind occupied was play guitar," said Kazee, who nabbed the 2012 Tony Award for Best Actor in a Musical. "I just started playing melodies and sooner or later, songs started coming out of that. It was a product of my circumstances … of just being alone and feeling very alone, not being in a show, not being able to do anything."
That new material forms the crux of Kazee's latest act, which opens May 10 at New York's 54 Below. Alongside his band The Shiny Liars, the 37-year-old actor will eschew showtunes in favor of a southern-tinged, alt-country set inspired by the likes of Damien Jurado, Wilco and Ryan Adams. Those performances, all three of which sold out quickly, will showcase material that Kazee plans to include on the full-length album he expects to record this fall.
Kazee, who sang a heartfelt tune written for his late mother during an early preview performance, spoke to The Huffington Post about being a "southern balladeer" who "writes songs for the heartbroken."
Congratulations on your 54 Below debut. What surprises do you have in store for us?
Steve Kazee: Well, I think the whole evening's going to be a surprise, honestly. I decided to take a chance and play my own music. I don't really know what to expect … it'll be the first time anybody's heard any of my new stuff.
Given that you're primarily known as a Broadway performer, do you feel any pressure to establish yourself independently as a singer-songwriter?
Not really. The thing is that I'm an actor first, and in "Once," I was able to be a musician and a singer as well as an actor. But this show, for me, is not a career chase; this for me is being an artist. I'm presenting things I've created and people will have an opinion one way or the other. For me, it's the act of creating it, which is where the catharsis was. I want people to enjoy themselves, but I'm not going into it thinking I'm going to be a songwriter in Nashville.
I'm just excited to play for people. I was speaking to some Irish friends of mine who are incredible musicians recently, and we were all sitting around just trading songs … I just realized that's what being a musician is really about. It's unfortunate there's a business behind it as well, because it really is about getting a group of people together and sharing stories through song.
You've dedicated one song to your mother Kathy, who died in 2012, so it seems like your show will be a very personal one.
I've never been a person who keeps these things inside very much; I like to be very open about my feelings. When you start hiding things away, that's when the darkness creeps up. Sunlight is the best disinfectant.
Is there one song or segment in the show you're particularly excited to perform?
I'm actually really excited to perform the sad songs, just because there's something really raw about saying, "You know what? I had a really bad breakup, too," or "I've been struggling with losing my mother as well."
I don't listen to anything happy; everything I listen to is very sad (laughs). Well, not sad per se, but low-key and melancholy.
What's the next step in your venture as a singer-songwriter?
I'm going to record over the summer and hopefully do some sort of album release in the fall. But again, for me, it's not for any monetary gain; I've just always wanted to have an album of my own songs. If nobody buys it, I'm fine with that, I just want it for me.
If there's one message you hope the audience takes away from your 54 Below performance, what would that be?
Just know that everyone has pain; you're not alone. We go see theater, we take in art because it makes us feel. I hope, more than anything, that my audience feels when they come.
Steve Kazee plays New York's 54 Below with The Shiny Liars on May 10-13. All three performances are sold out.
BEFORE YOU GO
PHOTO GALLERY
Tony Contenders 2013