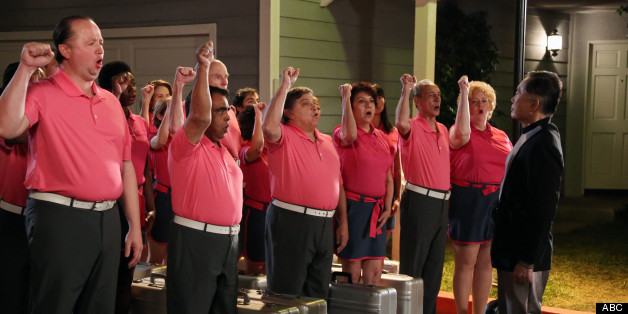 "The Neighbors" has reportedly been renewed for Season 2, although the network has not yet confirmed its fate -- nor that of "Family Tools."
Despite being eviscerated by critics, "The Neighbors" debuted with an impressive 3.2 rating in the 18-49 demo -- although it had dropped to a 1.5 by its March finale.
Still, some critics softened their opinions on the quirky alien comedy, and the finale even boasted genre icons George Takei and Mark Hamill making "Star Trek" vs. "Star Wars" jokes.
ABC canceled an additional five series from the 2012-2013 season: "Body Of Proof," "Happy Endings," "How To Live With Your Parents," "Malibu Country" and "Red Widow," which join the previously canceled "666 Park Avenue," "Don't Trust The B---- In Apartment 23," "Last Resort," "Private Practice" and "Zero Hour." On a more positive note, the network renewed "Castle," "Grey's Anatomy," "Last Man Standing," "The Middle," "Modern Family," "Nashville," "Once Upon A Time," "Revenge," "Scandal" and "Suburgatory."
ABC also picked up a number of comedies for the 2013-2014 season: "Super Fun Night" starring Rebel Wilson; ensemble "Mixology"; Malin Akerman's "Trophy Wife"; family comedy "The Goldbergs" and "Back in the Game" starring James Caan. On the drama side, in addition to "Marvel's Agents of S.H.I.E.L.D.," ABC picked up spinoff "Once Upon a Time in Wonderland"; drama "The Returned"; David Zabel's "Lucky 7" and "Betrayal"; the Christian Slater/Steve Zahn vehicle "Mind Games" and Sofia Vergara-produced "Killer Women."
To find out what the other networks picked up for the new season, follow the links below.
Pilot Pickups For 2013-2014:
NBC's new dramas and new comedies
Fox's new dramas and new comedies
CBS' new dramas and new comedies
The CW's new dramas
Will you watch "The Neighbors" next season?
PHOTO GALLERY
2013 Renewal Index: Canceled, Renewed & On The Bubble Shows
BEFORE YOU GO