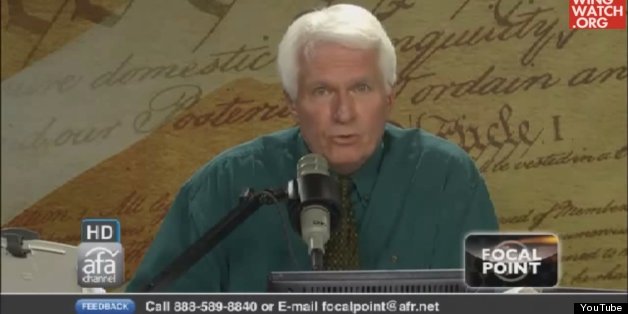 Bryan Fischer doesn't usually find himself tongue-tied. The virulently anti-gay spokesperson for the American Family Association (AFA) has made a career out of his penchant for outrageous and often anti-gay statements. A sampling of Fischer sound bites from the past few weeks includes wild claims like homosexuality being responsible for the collapse of Western economies, as well as blander accusations like homosexuality being objectively immoral behavior.
Fischer's condemnation of the lesbian, gay, bisexual and transgender (LGBT) community often hinges on his stated belief that being gay is a (bad) choice. But on Wednesday, Fischer got into a verbal sparring match with Fox News radio host Alan Colmes over whether or not Fischer himself ever had to ignore or suppress "gay urges."
Fischer refused to answer Colmes' question, saying, "Alan, I am not going to talk about that. We're not going to talk about that."
But Colmes refused to back down.
"[M]aybe if you've been able to overcome your gay impulses and you've been successful in doing it, you could be a model for other people you'd like to see act the same way," he said.
"The focus here, Alan," came Fischer's retort, "is that everybody experiences sexual impulses that, if they acted on those impulses, it would destroy them. You've experienced them. I've experienced them. Every man, every woman has experienced certain sexual impulses that, if they acted on them, if they conducted themselves by yielding to those impulses, would destroy them. Ask Tiger Woods about that."
At the very least, the exchange has already led more than one commentator to wonder if Fischer might indeed be hiding something.
Listen to audio of the conversation (below), courtesy of Right Wing Watch:
BEFORE YOU GO