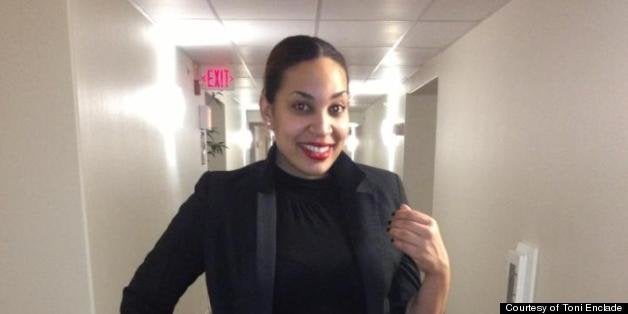 The day Toni Enclade has dreaded is upon her -- Mother's Day.
Enclade's 26-year-old daughter Terrilynn Monette, a teacher in New Orleans, vanished on March 2. Enclade has been preparing herself to face the second Sunday in May without her.
"I have to keep myself strong for her because if I don't do it, I don't think anybody else will," Enclade told HuffPost in a phone interview this week.
Monette, a second grade teacher, was last seen in surveillance footage driving alone in the early morning hours. She had been socializing with friends in Parlay's Bar in the Lakeview neighborhood. Her black 2012 Honda Accord has not been found.
Enclade, 50, has made several trips from her home in Long Beach, Calif., to New Orleans to look for her daughter and to keep the search in the news. Her next trip is scheduled for May 17.
"It's very hard," said Enclade, who maintains a degree of normalcy by spending time with her other daughter and two grandchildren. "They're what keeps me going."
A state lawmaker who was moved by seeing Enclade's televised pleas for information arranged for tow companies to dredge Bayou Saint John in an effort to locate Monette's car.
"She's very distraught," said state Rep. Austin Badon (D), who regularly talks to Enclade. "The worst part about it is that she has no answers. It's like her daughter just vanished from the face of the earth.
"I dreaded calling her the other day, because we had been doing things on an almost daily basis and I didn't know what we were going to do next," Badon said. "We're running out of places to look in the New Orleans area, to be honest with you.'
Crews plucked 17 sunken cars this week from Bayou Saint John. They will scour the water again with sonar equipment on Sunday in an area near where "weeks old" tire tracks lead to the shoreline, Badon said. Canals and other waterways have been plumbed since April.
Police interviewed a man who was seen talking to Monette outside the bar. At this time police have no official suspects, but haven't ruled out anything, according to local station WDSU.
The New Orleans Police Department said it doesn't suspect foul play and classifies Monette as a missing person.
"We don't have any evidence to deem it otherwise," a department spokesman told HuffPost.
Monette moved to New Orleans when she was accepted into the Teach NOLA program, which deploys classroom instructors to underperforming schools.
Mel Hughes, whose girlfriend is Enclade's other daughter, said that Monette called her family in California nearly every day. The prolonged silence is especially hard on Enclade, he said.
"She's staying as positive as best she can," Hughes said, but the unrelenting stress takes it toll. "When you physically see what she's going through, when you hear it in her voice, it takes it to a whole other level."
The strain on people searching for a missing relative can unleash a host of other problems, according to officials from the Black and Missing Foundation. Family members risk health ailments, because they often deprive themselves of sleep and food. They may deplete bank accounts and lose jobs because they travel extensively on search missions.
"We know this can be a tough time for her and all the mothers of missing children," said Black and Missing Foundation co-founder Natalie Wilson, who's in contact with Enclade. "We ask family members to rely on their beliefs, to rely on other family members so they have a support group so they can cry and share."
There were 678,860 people reported missing at the start of 2012, according to the National Crime Information Center's most recent report. Of them, 550,424 were under 21 years old.
The discovery of the three women in Cleveland who were abducted about 10 years ago was on Enclade's mind this week.
"The news that those girls were found so close to where they came up missing leads me to believe that there's a possible chance she's till in New Orleans," Enclade said. "All this is doing is giving me hope that she's still out there somewhere.
"Honestly, I feel someone did abduct her ... I feel someone has taken her, that she's tied up somewhere and she's not able to get to me.
"As a mother, I don't feel she's been hurt."
Monette has a light complexion and dark hair. She's 5-feet-8 and weighs 180 pounds.
A $20,000 reward for finding her is available from Crimestoppers, the Times-Picayune newspaper reported last month.
CORRECTION: An earlier version of this story said Monette's car was a 2002 Honda Accord. It is actually a 2012 Honda Accord.
BEFORE YOU GO
PHOTO GALLERY
Terrilynn Monette