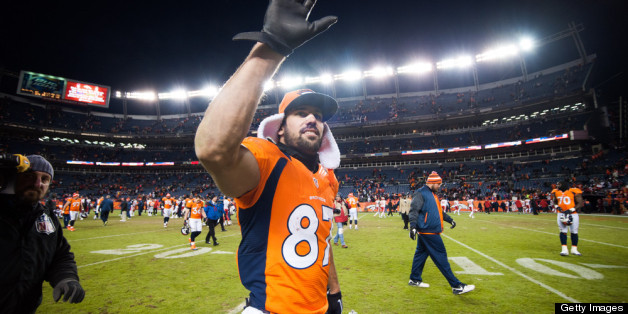 Anyone who's had teenage daughters knows the sound they make when they get excited.
The deafening noise likely falls somewhere between a newspaper press at 97 dB and a thunderclap at 120 dB. That is until Eric Decker walks into the room -- then it gets a lot louder.
"I like playing football," said Pamela Richmeier, 13. "Football is fun. And he's cute."
Pamela and the rest of her classmates at Heath Middle School got an hour-long visit from the Denver Broncos wide receiver as part of a celebration for becoming a "touchdown" school under the Western Dairy Association's Fuel Up to Play 60 program.
The National Dairy Council and the National Football League launched the program five years ago to improve nutrition and activity among children.
The program teaches students how to make positive changes by improving their nutrition and being physically active for 60 minutes a day. Since 2009, the program has grown to more than 1,400 schools and 850,000 students in Colorado alone.
Schools are supplied with support material and can compete for incentives such at trips to the Super Bowl, official NFL gear and player appearances, such as Decker's visit on Friday.
Heath was awarded the trip for becoming a "touchdown" school -- the only one in Colorado.
The school has developed a student team to lead the program, had a program kickoff, conducted a school wellness survey and incorporated healthy eating and physical activities into the school day.
Heath has implemented a grab-n-go breakfast for students. It has purchased additional sports equipment. It works with students to come up with creative ways to stay active at home. And it incorporates physical activity into school assemblies when it can.
"This is a great organization," Decker said after the event. "It hits close to home with me being an athlete and eating right."
The students asked Decker questions ranging from his favorite Bronco player to what gets him motivated in the morning.
Despite most of the girls being excited and even some hardcore, boy Bronco fans being in awe, there were some boys who dreamed of more.
"I wanted to see his fiance," Xavier Bonham said with a laugh about country and western singer Jesse James .
After a short presentation about healthy eating and getting outside for activities, Decker participated in a series of "Minute to Win It" competitions that included a contest with Heath Principal Blakley Wallace to see who could put on football pants, pads, shirt and helmet the fastest.
Before he left, he took photos and signed a few autographs for students.
"This is about the kids," Decker said about how he manages to add one more duty to his already busy schedule. "I love sharing the positive message for them to live their dreams. They have to know that if they do good things and work hard, positive things come from that." ___
BEFORE YOU GO